June 8, 2023 at 10:53 am
Argentinian soccer star Lionel Messi, most recently of Paris and Barcelona, is going to play for a team in Miami, Florida. It's possible he might have made and kept more money by playing in Saudi Arabia, but after taking family and personal considerations into account, it looks like Miami won out, perhaps in part because of similar considerations (including zero state income tax) that have helped to attract Billy Joel, Tom Brady, Carl Icahn, Leon Cooperman, Paul Tudor Jones, and Ken Griffin, among other star talents. It is a pattern!
June 7, 2023 at 9:34 pm
Sequoia Capital announced that it is splitting in three: "We will move to completely independent partnerships and become distinct firms with separate brands no later than March 31, 2024." The Sequoia China business will "adopt the name HongShan in English." The US/Europe venture capital business will continue to be known as Sequoia Capital. And the India/Southeast Asia business will become Peak XV Partners.
This is an intriguing approach that could set a pattern for other companies. Imagine if Apple, or Tesla, or General Motors, or JPMorgan Chase, split their China businesses off separately, allowing people who want to invest in China to do that, and allowing people who don't want to invest in China a chance to sell, or pass. Let the market put a price on the risk of operating in a Communist Party-run place without strong property rights or rule of law.
June 7, 2023 at 8:43 pm
Donald Trump has issued a new video suggesting, without evidence, that "Big Pharma" may be responsible for "an unexplained and alarming growth in the prevalence of chronic illnesses and health problems, especially in children."
"We've seen a stunning rise in autism, auto-immune disorders, obesity, infertility, serious allergies, and respiratory challenges," Trump says in the video. "Is it the food that they eat? The environment that we live in? The over-prescription of certain medications? Is it the toxins and chemicals that are present in our homes?"
"Every year, we spend hundreds of billions of dollars to treat these chronic problems rather than looking at what is causing them in the first place," Trump says in the video. "Too often, our public health establishment is too close to Big Pharma—they make a lot of money, Big Pharma—big corporations, and other special interests, and does not want to ask the tough questions about what is happening to our children's health. If Big Pharma defrauds American patients and taxpayers or puts profits above people, they must be investigated and held accountable."

Continue Reading
June 7, 2023 at 4:41 pm
June 5, 2023 at 2:09 pm
Cornel West, the Dietrich Bonhoffer Professor of Philosophy & Christian Practice at Union Theological Seminary and a former professor at Harvard and Princeton, is running for president as a representative of the People's Party, he announced today. A video posted to Twitter has West saying, "Neither party wants to tell the truth about Wall Street."
West has a famous friendship with conservative professor Robert George of Princeton's James Madison Program, but he also has a nasty, uncivil rhetorical streak. While the Class of 1943 university professor at Princeton, West described President Obama as "a black mascot of Wall Street oligarchs and a black puppet of corporate plutocrats."
When he left Harvard after a second tour, he blamed, without evidence, the influence of pro-Israel donors.

Continue Reading
June 4, 2023 at 10:39 am
"Wealth is knowledge, growth is learning, information is surprise, money is time."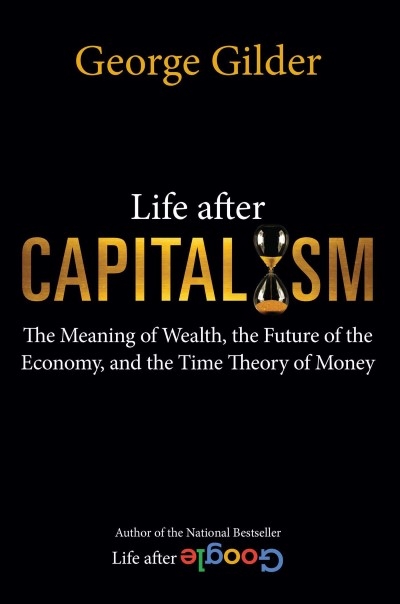 George Gilder's new book "Life After Capitalism" puts on display Gilder's formidable talent for profound-sounding generalizations, simultaneously sweeping and succinct. These are phrases that would work on a bumper sticker, or inside a fortune cookie, as well as in a hardcover book.

Continue Reading
June 1, 2023 at 9:04 am
Jeffrey Epstein's dealings with JPMorgan Chase are the focus of extensive articles in today's Wall Street Journal ("Dimon Accused of Having Discussed Epstein") and New York Times ("JPMorgan Denies Fault for Epstein").
In each article, a lawyer for JPMorgan Chase is mentioned.
From the Wall Street Journal:
In his deposition, Dimon said that it was General Counsel Stephen Cutler's job to approve or terminate Epstein as a client and that other JPMorgan executives, including Mary Erdoes, could have also terminated the bank's relationship with Epstein.

Lawyers asked Dimon about an email from 2011 in which Cutler wrote that the bank should not do business with Epstein. "This is not an honorable person in any way. He should not be a client," Cutler wrote.

Continue Reading
May 23, 2023 at 11:37 am
From the "founders statement" of Brookline.News, a new nonprofit news outlet in Brookline, Massachusetts: "Journalism is the only non-governmental entity mentioned in the US Constitution. Our Founding Fathers saw journalism — the Fourth Estate — as pivotal to preserving democracy."
It takes an astonishing level of ignorance of the Constitution to make such a wildly inaccurate claim. Here are a list of some of the "non-governmental" entities mentioned in the Constitution: "We the people," "Indian Tribes," "authors and inventors," "vessels." The Bill of Rights mentions "religion," "houses, papers, and effects," and "private property."
Anyway, Brookline.News is a new outlet, so perhaps this will be an opportunity for it to publish its first correction.
May 22, 2023 at 9:20 pm
May 21, 2023 at 10:04 pm
When I first met C. Boyden Gray it was the American Spectator's annual dinner in Washington. The way I recall it, at least, Seth Lipsky asked Paul Gigot if he knew Gray and if he'd be willing to make the introduction. And so we walked over, and Gray and I had a warm chuckle over the fact that two former presidents of the Harvard Crimson, an institution with a left-of-center reputation, were there being introduced by a Wall Street Journal editorial page editor (or columnist), at a dinner for the American Spectator.
I was barely 30, but Gray was at that point the fourth White House counsel I had met, the first three being Bernie Nussbaum, Abner Mikva, and Leonard Garment. Of the four, Gray was the tallest—a New York Times obituary puts him at six foot, six inches. Gray had the job in the administration of George H.W. Bush, while Garment served during Nixon and the other two men served during President Clinton's administration.

Continue Reading
May 21, 2023 at 11:26 am
May 19, 2023 at 11:15 am
Republican political consultant Jeff Roe and his firm Axiom Strategies are the subject of a detailed look from The Washington Post. "In the 2022 cycle, Roe told investors his firm, which also has corporate clients, had taken in $196 million in net revenue, while earning more than $22 million as profit after depreciation and taxes. By 2024, he said those numbers would climb to $250 million and about $36 million in profit."
Roe is "expected to be a central figure in DeSantis's 2024 political apparatus" and is known for Ted Cruz's 2016 presidential campaign and Glenn Youngkin's 2021 Virginia governor's race.
The Post reports: "Roe has launched a project called 'Freemont' to quietly shape the Republican Party's leadership in an effort to benefit Axiom financially....'The six major committees (RNC, NRSC, NRCC, RGA, RAGA, RSLC) spent over $1.7B in 2020,' the prospectus says. 'The chairs and senior staff make vendor decisions. Freemont is a project to help elect chairs and place senior staff that are friendly to Axiom.'"

Continue Reading
May 17, 2023 at 5:11 pm
Imagine if, after the Supreme Court's racial integration decision Brown v. Board of Education, the segregationist advocacy groups and Southern senators had showed up outside the Supreme Court to announce legislation to change the number of justices. Or if, after the Supreme Court's ruling in Bush v. Gore, the Democrats had tried to change the outcome by adding justices to the court in hope of achieving a different result.
There'd be justifiable outrage at interference with judicial independence, and with outcome-based disappointment driving process-based changes. And there'd be understandable skepticism about whether such court-packing would lead to a never-ending cycle of each new Congressional majority changing the rules to add justices who agreed with them to the high court, eviscerating the judiciary's constitutional role as a check and balance to the other branches of government.

Continue Reading
May 16, 2023 at 9:58 am
Musician Billy Joel, he of the "New York State of Mind," is putting his Oyster Bay Long Island estate up for sale, the Wall Street Journal reports. It quotes the real estate agent saying he is "looking to sell now because he and his wife, Alexis Roderick, with whom he shares two young children, are spending more time in Florida."
The flow of talent out New York and New Jersey and Connecticut and Massachusetts to Florida, and the reasons for it beyond weather, have been the topic of extensive previous coverage here.
May 16, 2023 at 9:10 am
Martha Stewart at 81 on the cover of the Sports Illustrated swimsuit issue is getting a lot of attention.
One may debate whether it counts as progress for women (an 81-year-old woman on the cover of the Sports Illustrated swimsuit issue!) or shows how much progress remains to be made (an 81-year-old woman can be on the cover of the Sports Illustrated swimsuit issue, so long as she's blond, almost wrinkle-free, and has photogenic cleavage). One may rue what it says about the aging demographics of Sports Illustrated readers. But what was striking to me, as someone who in 2017 advocated a pardon for Martha Stewart, was to look at it the framework not so much of feminism but of capital markets regulation, criminal justice reform, and prisoner re-entry.

Continue Reading