Hillary's Capital Gains Tax Increase
July 24, 2015 at 2:06 pm
"Hillary Adds Capital Gains Complexity With Tax Rise, 6-Year Wait," is the headline that Bloomberg hangs over its news article about Secretary Clinton's speech in Manhattan today. The negativity is justified by the details:
For Americans in the top tax bracket, assets held for less than two years would be taxed at the top ordinary-income tax rate of 43.4 percent, according to the campaign.

The rate would drop to 39.8 percent after two years, 35.8 percent after three years, 31.8 percent after four years and 27.8 percent after five years. Taxpayers would have to hold onto assets for at least six years to get the 23.8 percent rate, which would remain the lowest available.

Clinton wants to push capital gains taxes higher than the 28 percent proposed earlier this year by President Barack Obama -- and higher than the 20 percent maximum Clinton advocated in her 2008 campaign for president.

Continue Reading
In GOP Field. Where's Emma Lazarus?
July 24, 2015 at 11:29 am
The Daily News has published an op-ed I wrote about the Republican presidential candidates and immigration:
The Republican Party is in danger of sinking into the swamp of nativism. It's not just Donald Trump, who soared to the top of presidential polls after characterizing Mexican immigrants as rapists and criminals.
Two other leading Republican contenders whom I saw campaigning in New Hampshire this month aren't much better.
Please read the whole thing here.
Scott Walker and Arthur Brooks' Conservative Heart
July 23, 2015 at 1:05 pm
If the governor of Wisconsin, Scott Walker, gets elected president of the United States, he might want to think about giving the president of the American Enterprise Institute, Arthur C. Brooks, the Medal of Freedom. Or at least sending Mr. Brooks a really nice thank-you present.
Governor Walker's presidential announcement speech, delivered July 13 and repeated by Mr. Walker essentially word-for-word over and over again on the campaign trail, tracks remarkably closely with Mr. Brooks' book The Conservative Heart: How To Build a Fairer, Happier, and More Prosperous America, whose publication date was July 14. The following side-by-side comparison details the similarities in language and substance, which have not been reported elsewhere:

Continue Reading
July 23, 2015 at 10:15 am
Labor unions — SEIU, the Massachusetts Teachers Association, the American Federation of Teachers-Massachusetts, and the Massachusetts AFL-CIO — are pushing a November 2018 ballot initiative that would raise the Massachusetts state income tax rate, currently a flat 5.15%, by four percentage points for taxpayers with earnings more than $1 million. The Boston Globe reports:
About 14,000 Massachusetts taxpayers reported taxable income of $1 million or more in 2013, the last year for which a breakdown is available. Many of them were clustered in Boston and wealthy suburbs such as Newton, Wellesley, and Weston.
July 22, 2015 at 10:45 am
The New York Times reports on Barack Obama's seventh appearance on Jon Stewart's "The Daily Show":
In a segment that officials at the show said would appear only online (the episode was scheduled to be broadcast at 11 p.m. Eastern time), Mr. Stewart grilled the president on why government does not work more effectively.

"Government works better now than it ever has, given what we ask it to do," Mr. Obama said in response to a series of questions about lapses in service delivery by the Department of Veterans Affairs.

"We've been able to systematically add resources to the V.A.," Mr. Obama said, echoing remarks from earlier in the day in a speech at the Veterans of Foreign Wars' national convention in Pittsburgh. "You still have this massive structure with millions of people being served."

Continue Reading
July 21, 2015 at 1:28 pm
The libertarian public interest law firm the Institute for Justice is representing the archdiocese of Newark in a lawsuit against the Christie administration challenging a law signed by Governor Christie that bars religious institutions from selling cemetary headstones. NJ.com has a news article and the Institute for Justice has a press release and a video.
July 21, 2015 at 12:51 pm
Senator Rand Paul is not someone I'm a big fan of, but even so I think this is the best campaign commercial I've seen so far this cycle:
July 21, 2015 at 10:49 am
The Cato Institute's David Boaz highlights a Washington Post article about how the former governor of Maryland, Martin O'Malley, who is now running for president as a Democrat, earned $147,812 in speaking fees from "Environmental Systems Research Institute, a company that makes mapping software that O'Malley heavily employed as governor as part of an initiative to use data and technology to guide policy decisions."
One ESRI contract with the state of Maryland was worth as much as $3,702,000.
Link via Walter Olson.
July 21, 2015 at 10:28 am
The latest Conversations With Bill Kristol interview is with Justice Alito. In addition to detailing the behind-the-scenes nuts and bolts of how the Supreme Court justices discuss and decide cases and assign opinions, the justice talks about his concerns about the court's decision to find a constitutional right to gay marriage in the "liberty" protection of the 14th Amendment:
the decision was based on, really, one word in the 14th Amendment. The Due Process Clause of the 14th Amendment prohibits the deprivation of life, liberty, or property without due process of law. So this was all based on liberty and on a substantive protection of liberty, not a procedural protection, which is what you might think the Due Process Clause was about, but substantively the Constitution protects certain liberties, the Court held. And the right to same-sex marriage is one of those liberties.

Continue Reading
July 21, 2015 at 10:20 am
How to get 4% GDP growth? "Open borders immigration policy," Noah Smith writes at Bloomberg View. "The more people in your country, the higher the output."
July 21, 2015 at 10:18 am
The upcoming Republican presidential debate — specifically, possible questions for some of the participating candidates — is the topic of my column this week. Please check it out at the New York Sun (here), Reason (here), and Newsmax (here).
Obama, Kennedy, and the Iran Deal
July 17, 2015 at 1:05 am
This is a bit far afield from our usual topics, but for those interested, I have an article up at the Federalist.com about President Obama's misuse of President Kennedy in his attempt to sell the deal with Iran. Please check it out here if you are so inclined.
In New Hampshire With Scott Walker
July 17, 2015 at 12:53 am
NORTH HAMPTON, N.H. — Anyone under the impression that Jeb Bush has the Republican nomination all locked up already might want to spend a day on the campaign trail with Scott Walker.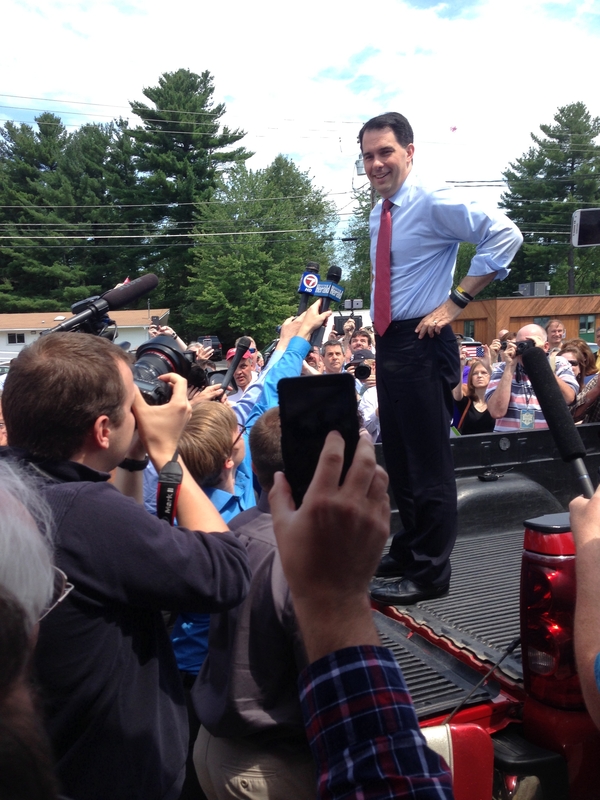 Mr. Bush and Mr. Walker appear similar. Both are Republicans who were twice elected governors of states where Democrats often win statewide elections. Both are tax cutters — Mr. Walker speaks of cutting $2 billion in taxes in Wisconsin, while Mr. Bush speaks of cutting $19 billion in taxes in Florida. Both are education reformers who clashed with teachers unions. Both are national security hawks that oppose President Obama's deal with Iran. Both speak of "peace through strength" and say they want to reverse Mr. Obama's cuts in defense spending. Both say they want to restore warm relations with Israel. Both aim to increase economic growth by paring back federal regulations and by encouraging more domestic energy production.

Continue Reading
July 15, 2015 at 4:24 pm
Top ObamaCare official Marilyn Tavenner, who until February was "administrator of the Centers for Medicare and Medicaid Services, the federal agency that insures one in three Americans and has an annual budget of more than $800 billion," will take over August 24 as the "top lobbyist for America' health insurance industry," taking over as "president and chief executive of America's Health Insurance Plans, the trade group whose members include Aetna, Anthem, Humana, Kaiser Permanente and many Blue Cross and Blue Shield companies," the New York Times reports.
Writes Times reporter Robert Pear: "Her selection as chief lobbyist for the industry highlights how federal health programs have become a priority for insurers, which increasingly depend on revenues from Medicare and Medicaid and the public insurance marketplaces created under the 2010 health law."
July 15, 2015 at 1:59 pm
Here's a classic case of government waste. The U.S. taxpayers financed equipment for the government of Yemen. But the equipment — nearly $600,000 worth of night vision goggles, along with medical supplies and other goods — has been sitting decaying in a Virginia warehouse for eight years now. The Government Accountability Office reports, "According to DOD officials, DOD faces limitations in accessing the equipment and mediating a resolution to the situation because it involves a private contract between the government of Yemen and its freight forwarder."