The man who just may turn out to be the next governor of New York had lunch with me today in Midtown. No, not Andrew Cuomo, but the county executive of Suffolk County, New York, Steve Levy.
You probably have not heard much about this Long Island official elsewhere yet, but you probably will soon. He already has raised $4 million in campaign funds and aims to raise another $1 million this month in advance of a June 1 convention at which the Republican Party will choose its candidate.
Mr. Levy himself was elected in 1986 as a Suffolk County legislator as a Democrat, in 2001 to the state Assembly as a Democrat, and in 2004 as the Suffolk County executive as a Democrat. But he describes his approach as "not really being Democrat or Republican but just common sense."
That may be what New York state, facing major budget trouble, needs – what Mr. Levy, a lean and mustachioed 50 year old, describes over a pastrami sandwich and matzo ball soup as "fiscal conservatism with a proven record."
In Suffolk County, Mr. Levy took over and slashed his own pay – he's given back a total of $70,000 of his own salary to the county budget. There had been three police detectives who had the job of driving the county executive around. He reassigned them to solving crimes. "The perks and the sense of entitlement among officials are a real sore point with the public, and legitimately so," he says.
The county had been operating its own health maintenance organization for Medicaid patients. Mr. Levy privatized it, saving $18 million. He won concessions from public employee unions by threatening layoffs. He offered early retirement to county workers and didn't replace them.
The result? Three years of county spending cut from previous years; not just in inflation-adjusted dollars but actual, real reductions in the cost of government. As Mr. Levy's campaign Web site puts it, this is "something virtually unheard of in municipal government on any level."
"That's what we need in Albany," Mr. Levy declares, promising to "take on unions, take on special interests."
He's got a detailed, Contract With America-like plan for what he'd do if he were elected governor, "Steve's Plan to Rescue New York." He'd declare a fiscal emergency, giving him power to do things like freeze wages and benefits for government workers. He also wants the power to impound 10% of state funds as a budget control measure, along with a cap on government spending. And, like gubernatorial candidate R. Nelson "Oz" Griebel in Connecticut, he's for a shift to a defined contribution pension system for government employees, away from defined benefit plans that leave taxpayers on the hook.
Taxes in the state, Mr. Levy says, are "too high."
"It's an uncompetitive state," he says. He'd cut them, beginning with a waiver of the state capital gains tax for New York-based venture capitalists that invest in New York companies.
"You have to talk specifics, and you've got to give people a real choice," Mr. Levy says. "I'm going to tick off a lot of special interests," he says, the groups that "throw around a lot of money, throw around a lot of endorsements. But he says that he'll make up for it with the support of "millions of regular citizens who are fed up."
Mr. Levy has a reputation as a hard-liner against illegal immigration, but he says it isn't a central point of his campaign. "I'm in favor of more legal immigration," he says, noting that he has immigrant grandparents on both his father's (Jews from Alsace-Lorraine) and mother's (Italian) side.
He says he's issued about 1,000 press releases as county executive, of which perhaps a grand total of five dealt with immigration. Nonetheless, it's "the only thing the New York Times wants to write about" him, he says.
The issue arose when, he says, the "far-left" wanted taxpayers to pay to build a hiring hall where illegal immigrants could congregate and those who wanted to hire them could find them. That was "nuts,' he says.
Then, after contractors with legal workers complained they were being undercut on competitive bids by firms with illegal workers, Mr. Levy required contractors working for the county to certify that their workers were legal.
Finally, when Mr. Levy shut down a "firetrap" two-bedroom house where 60 men were living, he was denounced for "ethnic cleansing."
Mr. Levy chalked the immigration talk up to the "politically correct," the "media and academic elite who are just divorced from reality."
"That's all they want to talk about," he said. "I won't play their game."
Why would a campaign by Mr. Levy, assuming he becomes a Republican and wins that party's nomination, get any more traction than John Faso's 2006 campaign against Eliot Spitzer, who, like 2010 likely Democratic candidate Andrew Cuomo, was an attorney general with strong poll ratings, a big campaign warchest stocked with contributions from the real estate industry, and high name recognition? Mr. Faso, like Mr. Levy, ran as a knowledgeable and experienced fiscal conservative.
The difference, Mr. Levy says, is that now New York state is on the verge of bankruptcy. Four years ago, questions like "what budget did you ever balance?" might not have really resonated that much. This year, "that's everything."
I ask what he'll do if New York Democrats try to do what Massachusetts Democrats tried to do against Scott Brown, and try to tie him to unpopular national Republican policies and politicians. He says he's "pro-choice" on abortion and "not philosophically dogmatic."
I ask about his position on education and he says he's evolved into a supporter of charter schools. As for vouchers, he says he's a "big believer in experimentation."
"Try it in certain places and see if it works," he says.
Mr. Levy's record in Suffolk County, and his plan for New York, include some help for specific industries – solar energy, film, bio-tech, scallops – that the "philosophically dogmatic" (some might just say principled) would oppose. His resume is short on private-sector experience. This article isn't an endorsement, and it's a long way between now and November. But it was a heck of an interesting lunch conversation, and I walked away both impressed with Mr. Levy and more optimistic about New York's future than I've been in some time.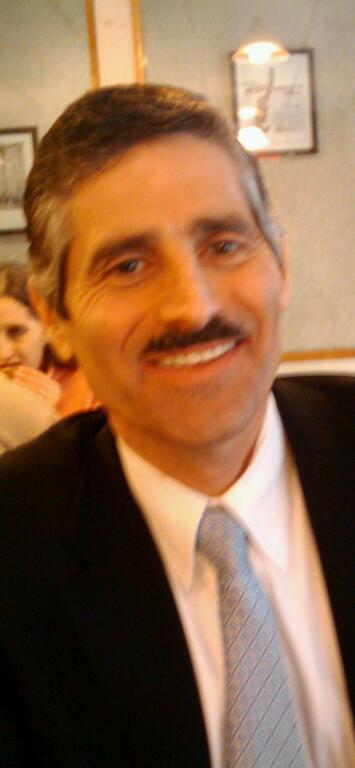 Suffolk County Executive Steve Levy (Photo/FutureOfCapitalism.com)