A little less than a year ago, the first lady of the United States, accompanied by Treasury Secretary Geithner, Agriculture Secretary Vilsack, and the Governor of Pennsylvania, Ed Rendell, stopped in North Philadelphia to visit a supermarket and talk about what she called "food deserts."
we saw this example today again during our visit to the Fresh Grocer at Progress Plaza. As you all know, the last supermarket that was in that community closed more than 10 years ago. More than a decade ago. That was the last time that that community had a grocery store. So this community went 10 years without a place for folks to buy good food. For 10 years folks had to buy their groceries at places like convenience stores and gas stations, where usually they don't have a whole lot of fresh food, if any, to choose from. So that means if a mom wanted to buy a head of lettuce to make a salad in this community, or have some fresh fruit for their kids' lunch, that means she would have to get on a bus, navigate public transportation with big bags of groceries, probably more than one time a week, or, worse yet, pay for a taxicab ride to get to some other supermarket in another community, just to feed her kids.

So let's think about that. For 10 years in one community, there were kids in that community who couldn't get the nutritious food that they needed during some of the most formative years of their lives. And think about the impact that that can have on a child's health, not just now but in the future, because research shows that children who are overweight as adolescents are 70 to 80 percent more likely to become obese as adults.

And what happened in the neighborhood that we visited today is happening somewhere in every state all across this country. Right now there are 23.5 million Americans, including 6.5 million children, who live in what we call "food deserts." These are places and communities that don't have a supermarket. This is true in the inner city and in rural communities. This is happening all across the country.
Mrs. Obama's efforts won her praise in a Wall Street Journal editorial. But they aroused my suspicions, in part because of my experience investigating for the New York Sun what the New York Times claimed was a "food crisis" in Fort Greene, Brooklyn. I was particularly skeptical of Treasury Secretary Geithner's plan to finance the new supermarkets using tax credits, and wrote, "I've been meaning to get to Philadelphia to check out this supermarket and, more importantly, ask other stores in the neighborhood how they feel about having their tax dollars taken to subsidize a new competitor that Mrs. Obama and the Treasury secretary like because it offers produce from local farmers."
I could have fact-checked Mrs. Obama without a trip to Philadelphia.
For one thing, a 2007 New York Times article previewing the opening of the store disclosed that, contrary to Mrs. Obama's 2010 depiction of a mother unable to access fresh fruit, Aleksandr Faynberg had been selling fresh fruit in the neighborhood from the back of a truck. The Times article was even illustrated with a photograph of Mr. Faynberg and the fruits and vegetables he was selling.
The Temple University student newspaper, the Temple News, reported before the Fresh Grocer opening that "Though there is a Cousins Supermarket located about a mile east of Main Campus at Fifth and Berks streets, the store has received mixed reviews by community members and Temple students on rating Web sites such as yelp.com. Customers complain of beat-up produce at the supermarket, and one Temple student described the walk from the Kardon-Atlantic Terminal apartments at 1801 N. 10th St., as unnerving." The same Temple News article notes that Temple has "thousands of resident students – many of whom purchase Temple Dining Services packages." The dining services Web site touts an on-campus "48 item, double sided salad bar."
And the same 2009 U.S. Department of Agriculture report on which Mrs. Obama apparently relied for her claim that 23.5 million Americans live in "food deserts" also cautioned, "However, not all of these 23.5 million people have low income. If estimates are restricted to consider only low-income people in low-income areas, then 11.5 million people, or 4.1 percent of the total U.S. population, live in low-income areas more than 1 mile from a supermarket." Remember, college students look low-income to these sorts of surveys, too. As for Mrs. Obama's scenario involving a bus or a taxi, that is even more far-fetched. The USDA report found "93 percent of those who live in low-income areas with limited access traveled to the grocery store in a vehicle they or another household member drove," and "Of all U.S. households, 2.3 million, or 2.2 percent, live more than a mile from a supermarket and do not have access to a vehicle." None of this information is in Mrs. Obama's speech. Realistically, if you have a car, is it really that big a deal to have to drive more than a mile to supermarket? You could be a poor farmer or a Ph.D. student with a pickup truck and a flourishing backyard organic vegetable garden, but by the government's definition, if the supermarket is two miles away, you are in a "food desert."
Anyway, I don't like to rely strictly on the Internet for my facts, and I wanted to give the first lady the full benefit of the doubt, so this week I did make a trip to Philadelphia, at the invitation of a real estate developer, Randy Cherkas of Grapevine Development, who is working to bring a Fresh Grocer to Camden, N.J.
Our first stop was the North Philadelphia Fresh Grocer, and there's no question that it is a beautiful store, with high ceilings, wide aisles, and attractive lighting. Educational signs throughout the store advise people, using traffic-light style green, yellow, and red colors, on healthy habits. One sign said, "Healthy Drinks for Healthy Bodies." On the green part were water and milk, with the words "choose these drinks most often." Chocolate milk and 100% fruit juice were yellow, "less often." On the red part of the sign were soda, fruit punch, and sports drinks. Even at 11:25 a.m., the line at the deli counter was already 12-deep — a bigger crowd than there was in the produce section, which featured everything from asparagus to celery root.
Though the store was touted as part of Mrs. Obama's anti-obesity campaign, it's certainly possible to get fat eating foods bought there. A prepared foods counter features fried chicken and chitterlings, and a nearby freezer is full of Carvel ice cream cakes. I saw one shopper with a cart full of orange soda, Doritos, and Haagen-Dazs ice cream, and several with big loaves of white bread.
A Rite-Aid across the street from the Fresh Grocer gave a sense of the food selection before the Fresh Grocer opened. Skim milk, orange juice, whole wheat bread, apple sauce, dried fruit, canned vegetable soup, Cheerios, and nuts were all for sale. The blocks nearby featured nothing in the way of corner stores, a consequence of urban redevelopment or slum clearance generations earlier that created housing rather than mixed-use space.
Finally, we happened upon Mr. Faynberg and his fruit truck. Back in 2007, he had told the Times that he hoped the arrival of the Fresh Grocer would be good for him by attracting more traffic. When I asked him how the store had affected his business, though, he said it had hurt. When I asked how he felt that taxpayer money — including his own — had been used to subsidize a competitor, he replied, "I feel bad, of course. We've been here 18 years, one spot." The truck had potatoes, blueberries, onions, cucumbers, collard greens, sweet potatoes, oranges, cherries, blueberries, bananas, and eggs. When I asked if he was aware that Mrs. Obama and Treasury Secretary Geithner had visited, Mr. Faynberg's assistant replied, with a gesture toward the Fresh Grocer, "They rode right by and went in there."
Across the Ben Franklin Bridge and the Delaware River from Philadelphia is Camden, N.J., where Mr. Cherkas has a plan for a $75 million development that would include, among other things, a $17 million Fresh Grocer, 400 market-rate residential rental units, and an office building for the Our Lady of Lourdes Medical Center across from which the project is located. As much as $40 million of the project over ten years may be funded with various state of New Jersey and federal tax credits, including the federal New Markets Tax Credit that Mr. Geithner touted on his trip to Fresh Grocer and a New Jersey program that provides incentives for development near train stations. Without the tax credits, the return on investment just isn't present for an investor to spend $17 million building a market for the rent Fresh Grocer can pay.
While we're driving around the site of the proposed development, I spy an Aldi store on the other side of the PATCO train station. We stop in and, while it's smaller and dingier than Fresh Grocer, there are fresh celery, broccoli, tomatoes, and cantaloupe for sale, along with bags of frozen vegetables in the freezer case.
Is it good policy to use state or federal grants or tax credits to encourage supermarkets in places like Camden and North Philadelphia? I started out skeptical. On a cost-benefit basis, though, it might be better than some of the other ideas that have been tried. A minor league baseball stadium on the Camden waterfront was built with $10.5 million in taxpayer-funded grants and loans, and a $53 million aquarium renovation, also in Camden, was financed with $43 million in taxpayer-funded grants and loans. Most people go food shopping more often then they go to an aquarium or to a minor league baseball game.
People in places like Camden and North Philadelphia have plenty of problems — not a lot of jobs, lots of crime. Driving through, one sees boarded-up buildings, vacant lots, and men hanging out on street corners. I don't know of any evidence that it's a lack of access to fresh fruits and vegetables that's really the thing that's been holding these neighborhoods back all these years. What there are signs of is that other well-intentioned government programs have taken their toll. Slum clearance and housing projects eliminated space for stores and had the effect of concentrating poor populations. Welfare programs discouraged work and marriage. Highways and rail projects sliced neighborhoods in half and made it easier for people with money and jobs to move to farther-out suburbs.
Maybe supermarket subsidies will work to improve neighborhoods and lives where other efforts have failed or made things worse. The North Philadelphia Fresh Grocer seems to have attracted not only those who live nearby but, with a large parking area, some commuters doing food shopping on their drive home to the suburbs. Maybe a good supermarket can be a cost-effective catalyst for attracting working residents to live in troubled neighborhoods. Those working residents can then attract other small businesses like restaurants and dry cleaners, drive out the crime, improve the local public school, and begin a virtuous cycle of improvement. But if Mr. Geithner and Mrs. Obama are going to appeal to Congress or state legislatures to fund these programs or expand them, the least the lawmakers can do is demand that the Treasury secretary and the first lady make those arguments and measure the results, rather than relying on the absurd and false claim that there are 23.5 million Americans trapped in "food deserts" who can't access an orange or a banana without some long and arduous ride on public transportation. America has enough real problems already — especially in places like North Philadelphia and Camden — without inventing imaginary new ones.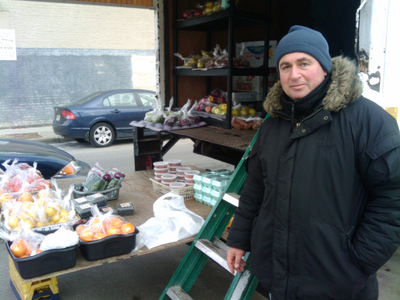 Aleksandr Faynberg selling fruit and vegetables out of a truck.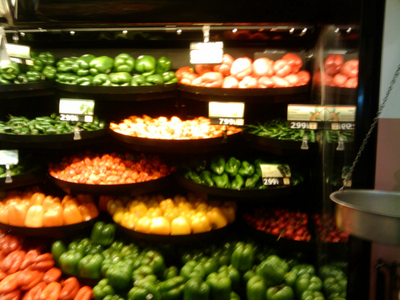 Inside the North Philadelphia Fresh Grocer