A full-page ad in the current issue of Brooklyn Parent magazine advertises "semi-private tutoring, academic enrichment, and homework help" along with "free educational counseling" and "free practice SAT exams and college workshops" in Bensonhurst, Brooklyn. At the bottom of the page is the name of a large Jewish charity to which I am a very small donor, along with the name of the private foundation that sponsors the program (which, when I check the Form 990 on Guidestar, turns out to have $84 million in assets and an executive making $144,000 a year for 20 hours a week of work). At the top of the ad is a quotation: "If you think education is expensive, try ignorance." The quote is attributed to "Bob Derek, Former Harvard University President."
Of course, there is no "Former Harvard University President" named "Bob Derek." There was a Harvard president named Derek Bok. And there is an actress named Bo Derek. They don't look much alike.
I'm not naming the foundation or the charity because I don't want to humiliate them. This program probably does fine work. But in this case a nonprofit that is lecturing parents or students on the importance of avoiding ignorance appears to be displaying some of its own. I wasn't quite sure whether to chuckle or cringe.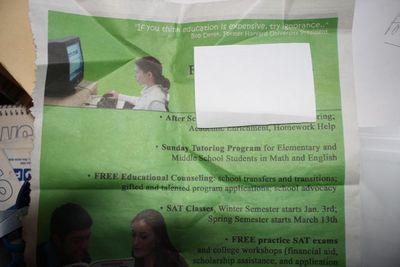 Ad with quote from "Bob Derek, Former Harvard President"