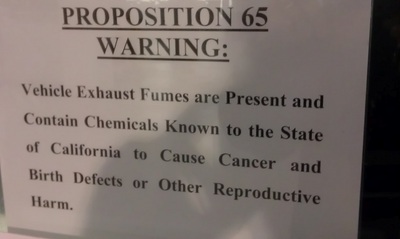 Warning sign at San Francisco International Airport rental car return kiosk.(Photo:FutureOfCapitalism)
Return a rental car to the San Francisco Airport's giant joint rental-car garage and you might be confronted, as I was last night, with this sign: "Proposition 65 Warning: Vehicle exhaust fumes are present and contain chemicals known to the state of California to cause cancer and birth defects or other reproductive harm."
This struck me as at least slightly absurd for at least two reasons.
First, the sign is posted not at the entry door to the garage, but well inside, once it's too late to avoid exposure to the carcinogenic and birth-defect inducing chemicals. Even if it were posted at the entry door, it's not clear how the state expects people who view it to react. What is a driver supposed to do, abandon his rental car at roadside and then sprint to the terminal while holding his breath to avoid inhaling the exhaust fumes from the other vehicles?
Second, the giant joint rental-car garage was built by SFO, which is a department of the city and county of San Francisco, with mostly tax-exempt bond offerings. So you've got the city and county taxpayers using tax-exempt financing to build a giant garage that the state says is a vessel for cancer-causing and birth-defect-causing chemicals. There's a certain circular aspect to it. Now, maybe the idea of the garage was to reduce the vehicle exhaust fumes by getting rid of the shuttle buses operated by all the individual car rental companies that used to circle the airport before the giant joint rental-car garage, and the train that connects it to the terminals, was constructed. But even so...
A list of the scientists on the state of California's Carcinogen Advisory Committee is here.