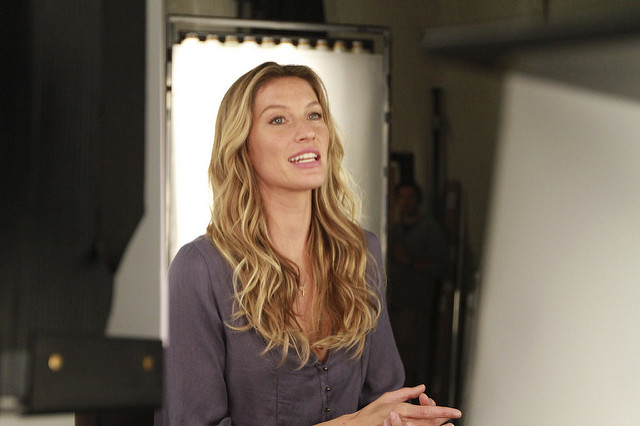 Gisele Bundchen. (Image source: Bob Bekian/Flickr)
From a transcript of a National Public Radio "Weekend Edition" program in which NPR's Scott Simon interviewed NPR sports correspondent Tom Goldman:
GOLDMAN: Yes. Much different fan base, of course, in New England. There's an expectation of all things great, even though the Patriots have been going through a controversy of late with tales of a rift between head coach Bill Belichick and quarterback Tom Brady. New England should be fine against the Titans, who have nothing to lose and probably will. Tom Brady is out to prove that 40-year-old quarterbacks can win Super Bowls.

SIMON: But, you know, I read something this week. He and Gisele Bundchen - am I pronouncing that correctly?

GOLDMAN: Very well.

SIMON: Some kind of film coming out in which Gisele says that, I know I am Tom's second love. Football is his first love. Nothing has persuaded me more that Tom Brady has taken too many hits in the head if Gisele Bundchen is his second love.

GOLDMAN: (Laughter). Dear me.
I'm about the last person to try to enforce political correctness, but given that public radio in recent months has seen David Sweeney, Michael Oreskes, Leonard Lopate and Jonathan Schwartz, John Hockenberry, and Tom Ashbrook felled or suspended by accusations of inappropriate behavior or comments directed toward women, you'd think that maybe covering sports on the radio by having two men interview each other about how hot Tom Brady's wife appears to be might not be exactly the brightest idea. If Congress actually had a tight rein on government spending, it might be asking whether we really need to spend hundreds of millions of taxpayer each year to subsidize that kind of radio.