Lee Smith writes at Tablet:
The press also has an interest in prolonging the Mueller probe. Russiagate is good for business, mesmerizing viewers with a grand political spectacle featuring one of the media's biggest draws for the last several decades—Donald Trump, the boss villain who is now in the White House. Maybe most prominent among the interested media organizations is the paper that has colluded with lawbreakers in publishing the names of US persons whose identities have been illegally leaked by intelligence officials and political operatives—the Washington Post.

Coincidentally, the owner of the Post also has a major stake in letting Mueller do his work to preserve America's surveillance and spying complex. In 2013, the same year that Amazon founder and CEO Jeff Bezos bought the paper that broke Watergate for $250 million, Amazon Web Services landed a $600 million deal with the US intelligence community. According to a 2017 Washington Post story, AWS created a "cloud storage service designed to handle classified information for U.S. spy agencies," including the CIA. The cloud technology was to "usher in a new era of cooperation and coordination, allowing agencies to share information and services much more easily."

And now some intelligence and data experts believe that the CIA cloud is how the Obama administration could have minimized its trail after unmasking US persons. "The NSA database, with its large and ongoing collection of electronic communications, can be accessed through the NSA's cloud," says one former senior intelligence official. The NSA can audit it and find out if analysts are violating rules. The NSA does not audit the CIA's cloud, which is audited by the CIA's IT people and Amazon Web Services employees who are given security clearances. Says the former official: "There are people in the CIA, the Office of the Director of National Intelligence, and the National Security Council staff who can move information from the NSA cloud into the CIA cloud. That seems the likeliest scenario to explain how Obama officials first unmasked US persons and then shared information without leaving a trail that could be audited independently, or immediately, at every step. Since unmasking, by itself, is authorized for lawful purposes, it's the processing and sharing, as with Susan Rice's spreadsheets, that tell us if the information was being misused."

Presumably, the owner of Amazon is not eager to have Amazon customers see that the company with their credit card data and buying and viewing habits on file may have facilitated the US government's spying on American citizens to advance a campaign of political warfare.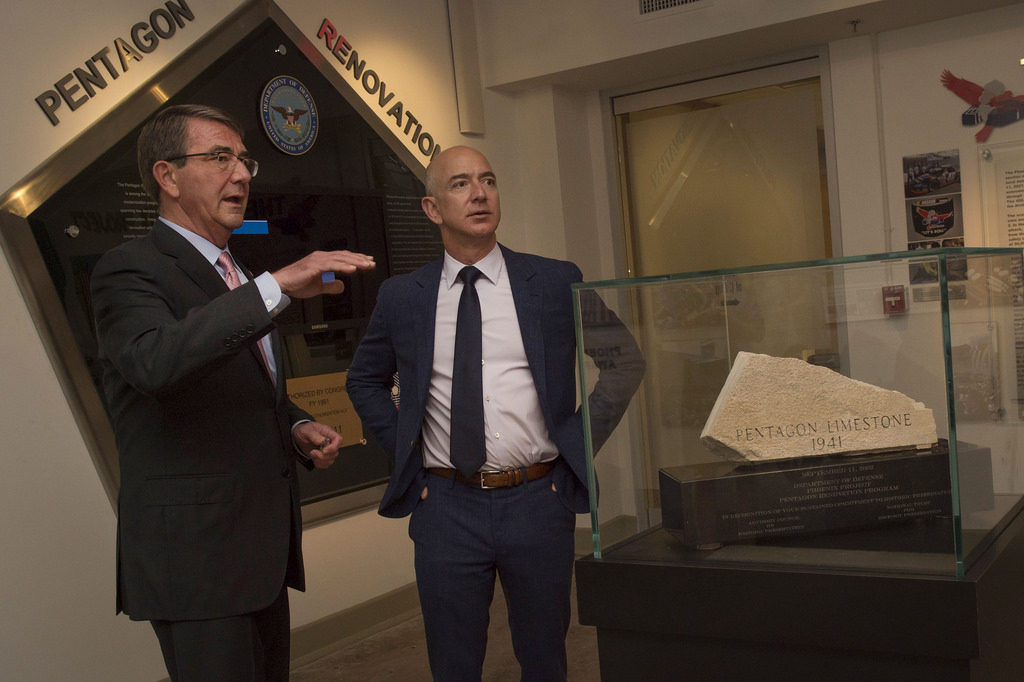 Secretary of Defense Ash Carter (left) gives Jeff Bezos, CEO of Amazon.com (right) a tour of the Pentagon during a visit on May 5 , 2016. (DoD photo by Senior Master Sgt. Adrian Cadiz - Released)
There is an anonymous source and a lot of wide logical leaps here (perhaps as many as those made by those who think Trump worked with the Russians to win the election), starting with the unanswered question of, even if Bezos wanted to use the Post's Mueller coverage to advance Amazon's interests, how precisely he'd operationalize that. I have indeed heard from other D.C.-based reporters on this story that the Post has a team of literally 30 reporters on the Trump-Russia story, which is a lot by any standard, so it's certainly possible that Bezos has expressed enthusiasm for the story. I do think that if Bezos said anything to Marty Baron or most any other Post journalist about committing journalism that advances the commercial interest of Amazon Web Services, Baron and the journalists would either resign on principle or else leak about it to a competing publication (maybe even to Lee Smith of Tablet).
That said, the drama between Bezos and Trump is probably the single hottest and most undercovered story in all of Washington right now. For earlier coverage at FutureOfCapitalism, see here and here. I've framed it as "the federal government is just about the only institution in American life at this point that is powerful enough to challenge Amazon," but it may be that Jeff Bezos is about the only institution in American life at this point that is powerful enough to challenge President Trump. Whatever side one prefers in that fight, it's just a newsworthy conflict.