One of my favorite places to eat here in Boston is the quick-service restaurant chain Clover, which also operated a bunch of food trucks before deciding to focus on its non-mobile locations. The company's founder, Harvard MBA Ayr Muir, has an excellent blog post explaining his side of being subject to a multi-year investigation by the federal Department of Labor, and then being blindsided by a Department of Labor press release announcing a settlement. From the blog post:
So what's up with this DOL press release about Clover? The quick answer is that the DOL decided after a multi-year investigation that our food truck General Managers should be paid as hourly employees and cannot be considered salaried employees. I don't know whether they are applying this to all food truck companies in Boston or just Clover. We didn't know this standard, and it seems sort of arbitrary to me. Read on for more detail.

We can't afford to fight the DOL in court so after an investigation spanning more than 4 years we settled. The settlement explicitly said "Therefore, the Secretary agrees to accept and the Employers agree, without admitting or denying liability, to pay $39,669.48." The reason the total was 79,338.96 is because the DOL has a policy of doubling everything, they call it liquidated damages. In reality we paid 83,721.90 including payroll taxes. I hadn't talked about it in the past because I didn't think I was allowed to. The DOL didn't warn us that they were sending a press release to all major media outlets in Boston. The press release was misleading and inaccurate. Follow the nitty gritty details.

From day 1 at Clover I've wanted us to adhere to all laws and regulations. The restaurant industry is known to operate in grey ways. I don't want Clover to be grey. We're going to be pure white. From day 1 on.

Not allowing a manager of a food truck to be considered a salaried employee was nothing we saw coming. And honestly, I don't think it's right. Food truck managers did the same kind of training, had the same kind of responsibilities, built the same relationships with staff and customers as restaurant managers. I think if we went to court with the DOL we'd win. But who knows, we can't afford to fight the case. We are still a tiny company, but we were much smaller back in 2015. I didn't have an employment lawyer as we do now. We thought we were doing everything on the up and up, and when this thing with the DOL came up it was really disturbing and I spent an absurd amount of time (literally weeks) holed away with reports and reams of data and payroll records.

Over the investigation period the DOL investigator thought we may have missed as much as $39,669 in wages. We disagree with that amount and no fault has been found. The investigation was over a 4 year period where total Clover payroll was $17,052,779.72. Most of the $39k was determined by deciding our food truck managers should not be considered salaried employees. They took the hours worked by these employees, assumed that if they were hourly we'd be paying them an hourly pay of their weekly salary divided by 40 hours. Then applied that rate x 1.5 (overtime) to an assumed number of hours per week.

In addition to the food truck manager issues (which were the bulk) they found we made a total of $2,396.33 in overtime errors. During this investigation we also found that we OVERPAID due to overtime hours by $5,500 (of course we didn't seek to get that back, but I found that errors work both ways). Most errors were because our Payroll person was making a mistake in some calculations. There were periods where she had used the hours worked over 2 weeks to determine overtime (instead of 1 week). We pay bi-weekly, but DOL wants overtime calculations to be weekly....
Doesn't the federal government have anything better to do than hassle small businesses about whether a food truck manager qualifies as management (exempt from overtime) or wage labor (subject to overtime rules)? And any time you hear that the Trump administration has gone too far in deregulating businesses, remember this one. It started under the Obama administration but concluded under the Trump administration, suggesting that these sorts of things are driven not so much by political agendas but more by career bureaucrats who outlast political appointees and who operate largely unaffected by outcomes of elections.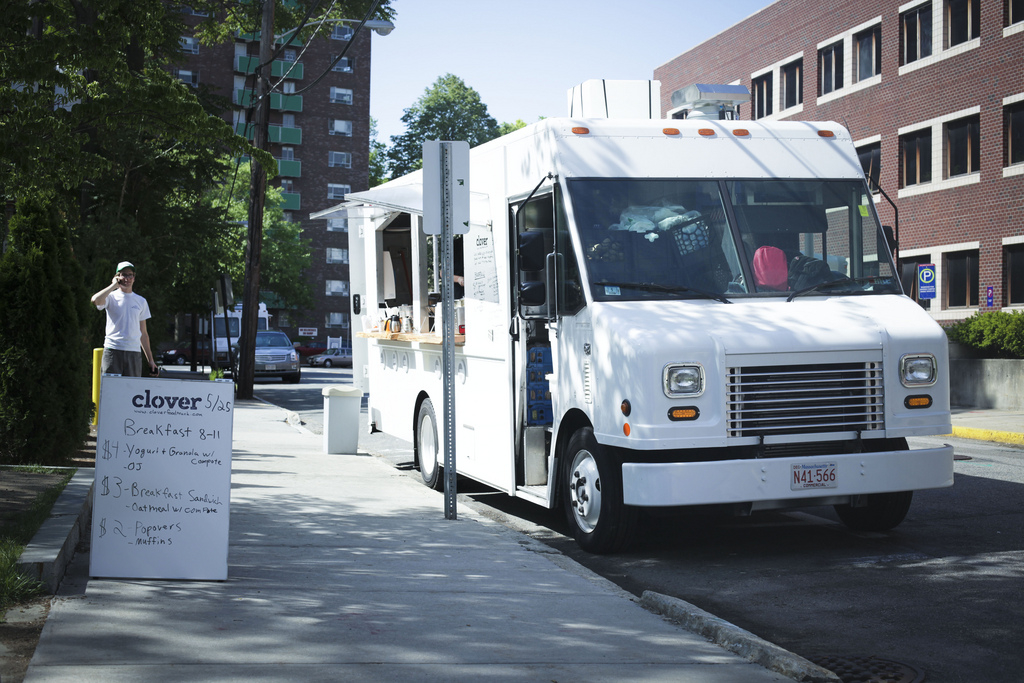 A Clover food truck. (Image source: jeanbaptisteparis/Flickr)
One point not covered in Mr. Muir's blog post is where in the Constitution the federal government gets the power to regulate the wages paid by Clover, which arguably isn't even actually engaged in interstate commerce because all of its locations are within a single state, Massachusetts. The law at issue is the Fair Labor Standards Act of 1938. That law's constitutionality was tested in United States v. Darby (1941), but that case involved the manufacturing in one state of goods intended for shipment to other states. Two earlier cases, Hammer v. Dagenhart (1918) and Carter v. Carter Coal Co. (1936), had taken the opposite position on Congress's power to regulate labor conditions, but they also involved manufacturing or mining goods intended for sale out of state.
The legal history of the Commerce Clause of the federal Constitution is probably not the first thing, or even the second thing, that anyone opening a food truck in Boston thinks about, but if restaurant owners and food truck operators spent less time and money dealing with this sort of thing, customers could probably have better and cheaper food. I wish that before settling, Mr. Muir had connected with a libertarian public interest law firm like the Institute for Justice. It's certainly possible that today's Supreme Court — especially after the confirmation of Brett Kavanaugh — might be skeptical about the idea that the Constitution's enumerated power to Congress "to regulate commerce with foreign nations, and among the several states, and with the Indian tribes" extends to the power to dictate the wage policies of a small restaurant and food truck chain whose operations are confined to a single state.
One positive here, aside from bringing public attention to the issue, is that I will feel even better about ordering, paying for, and eating the rosemary french fries or popover at Clover, knowing that the revenues will help to offset the costs of these ridiculous federal fines. The blog post doesn't mention it, but there is even possible criminal liability — an employer can be imprisoned for violating the Fair Labor Standards Act.
I don't want to fail to consider the employee's perspective here — someone who works hard more than 40 hours in a week standing over steaming oil in a hot food truck and maybe complained to the government because he or she is annoyed that he or she gets regular pay for hours 41 through 45 while the non-manager employees get time and a half. I am sympathetic to that person's perspective. But here, too, the federal regulation's strict dichotomy between wage-earners and "exempt" employees probably makes it harder, not easier, for employees and employers to reach a mutually agreeable and beneficial arrangement. The whole law is set up for an era when people worked in big factories rather than for rapidly growing, high-technology kosher vegetarian restaurant chains.