My home state of Massachusetts has started to provide its daily Covid-19 reporting in a new format. The first installment, dated April 20, includes this nifty figure that makes it possible to see at a glance the age distribution of the 1,809 fatalities that Massachusetts has attributed to the coronavirus: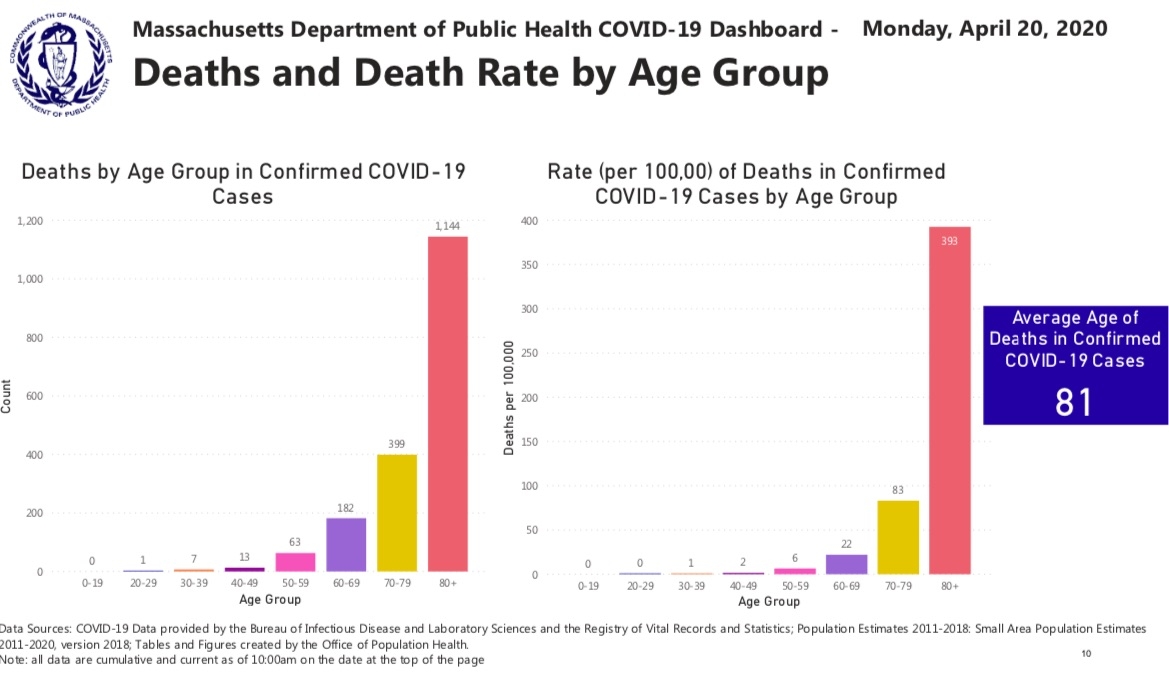 This may be reassuring if you are younger than 80 or terrifying if you are older than 80, but either way it suggests that with this disease, there's a dramatically different death risk for 80-year-olds than there is for younger-than-80-year-olds. The public policy consequences of that are significant and complex. If many younger people who become infected with the virus are either asymptomatic or have mild cases, but 80-year-olds die of it, one possible approach would be to shift resources dramatically into protecting the 80-plus year olds—perhaps evacuating them from nursing homes that seem to be breeding grounds for the virus (as of April 19, of the 1,706 deaths in the state of Massachusetts attributed to Covid-19, 884 were in long-term-care facilities), channeling scarce testing resources to them and scarce masks, gloves, tests, and gowns to their caregivers. (Update: as of April 21, of the 1,961 deaths in Massachusetts of confirmed Covid-19 cases, 1,059 of those deaths, or 54 percent of them, were reported in long-term care facilities.)
We've been looking at this disease from the perspective of epidemiologists and immunologists and virologists, but perhaps it needs to be looked at more from the perspective of geriatricians. It may be that the answer to the question "how do we best prevent 80-year-olds from becoming infected with the coronavirus" has a different answer from "how to we best slow the overall spread of the coronavirus," and that by focusing on the second question, we're distracting everyone from the first question, which is more urgent and has more life-or-death consequences. There may also be substantial overlap between the answers to the two questions. But there may be things we are doing—such as closing elementary schools or summer camps or youth sports leagues or rock concerts or bars adjacent to college campuses—that have costs, but that don't intersect much with the lives of most 80-year-olds.
To be clear, I'm not complaining about being inconvenienced. I want to protect the 80 year olds. It may just be that a more targeted strategy would do a better job of protecting the 80-year-olds, who, under the current approach, don't exactly seem to be flourishing.