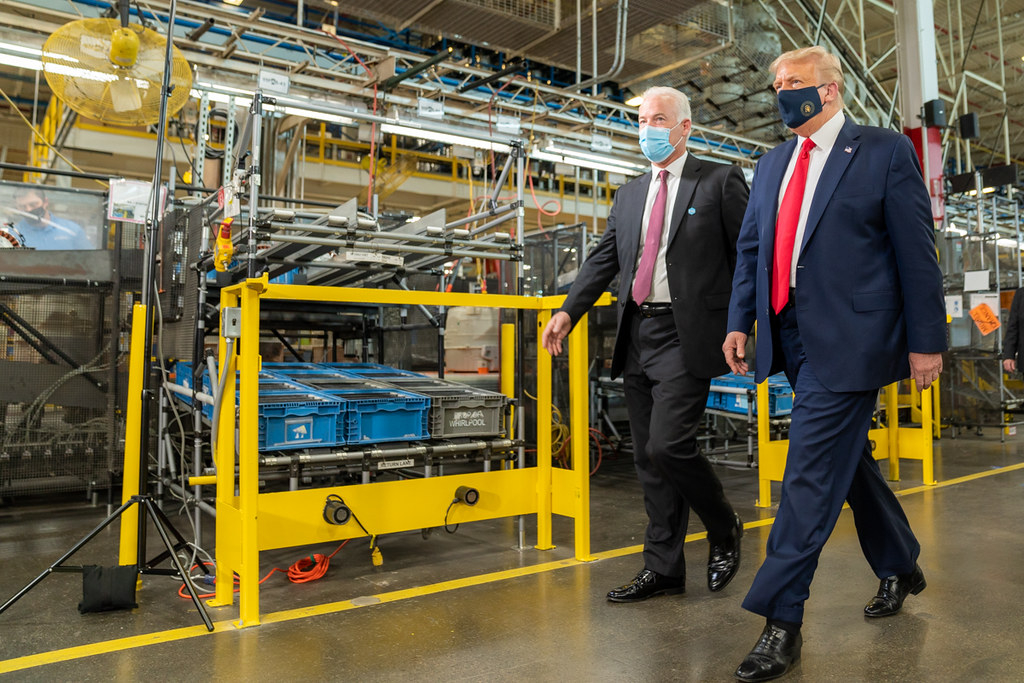 (Official White House Photo by Shealah Craighead)
The latest Democratic line of attack against President Trump is that he was too slow to push mask-wearing as a response to the Covid-19 pandemic.
Patrick Dillon, a former Obama administration official who is the husband of Biden's campaign manager Jennifer O'Malley Dillon, tweeted that Trump "was talking to Woodward about aerosol transmission in FEBRUARY. So someone smarter than him told him something like that, and then sat on a recommendation for Americans to wear masks until APRIL. Plenty of bad to go around here."
A New York Times editorial says, "Mr. Trump's lack of leadership almost certainly made the nation's suffering greater, its death toll higher and its economic costs more severe in the long term. When the president dithered on testing and contact tracing, when he failed to make or execute a clear and effective plan for securing personal protective equipment, when he repeatedly belittled and dismissed mask mandates and other social distancing edicts, Mr. Trump knew the virus was deadly and airborne."
Juliette Kayyem, writing in the Atlantic, says, "Trump helped encourage a culture war around masking. Fortunately, he lost. Today, more than 75 percent of Americans—including in red states such as Mississippi and South Carolina—are living under statewide masking policies, and 74 percent of Americans favor a mandatory national one. Biden has embraced such a policy. If Trump had done so months ago, efforts to reopen the economy would be much further along."
Placing all this blame on Trump for a miss on masking seems to me to go beyond what is justified by the evidence. Let's look at the record. Here is a New York Times article from March 27 about a shortage of masks for hospital workers: "The U.S. surgeon general, Jerome M. Adams, last month urged the public to stop buying masks to lessen the strain on supply. Masks are not very effective for protecting casual wearers from Covid-19, he said, but are crucial for health care workers who are in close contact with infected patients."
Here is a New York Times article from February 29: "Dr. Julie Vaishampayan, chairwoman of the public health committee for the Infectious Diseases Society of America, said surgical masks are really 'the last line of defense.' 'We worry about people feeling they're getting more protection from the mask than they really are,' she said. 'Washing your hands and avoiding people who are ill is way more important than wearing a mask.'... The bigger problem is that people don't use the masks properly. 'Most people will put their hand underneath the mask to scratch their face or rub their nose,' bringing contaminants in contact with the nose and mouth, said Dr. Adalja. 'You can't take it off when you get a phone call.'"
Here is an April 3 article from CNN headlined "Here's what health experts say about face masks": "The World Health Organization: WHO is standing by its recommendation to only wear a mask if you are sick or caring for someone who is sick. 'Mask wearing by the general public is not among the WHO's recommendations,' the organization said." The April 3 CNN article links out to a World Economic Forum page that says, "wearing a mask can provide a false sense of security, say experts, leading some to become less vigilant in more important hygiene measures, such as hand washing. ... The global shortage of personal protection equipment underscored the need to carefully deploy masks where they would do the most good... mask wearing by the general public is not among the WHO's recommendations. 'We don't generally recommend the wearing of masks in public by otherwise well individuals because it has not up to now been associated with any particular benefit,' said [Michael J.] Ryan, [Chief Executive Director of the WHO Health Emergencies Programme]."
Here is a National Public Radio report from April 10:
Among the reasons for reluctance on the part of some health agencies and places to urge mask wearing is the concern about the shortage of masks for medical workers. That's why the World Health Organization has stayed consistent in its recommendation, Margaret Harris of its coronavirus response team told NPR. And that position is: yes to masks for health-care workers and people with symptoms, no for the general public.

WHO and other agencies have also raised concerns about the potential problems that could arise due to the wearing of a mask — for example, a false sense of security that would undermine other preventive measures or self-contamination from touching a contaminated mask.

Epidemiologist Sergio Brusin who works on the European Center for Disease Control's coronavirus response, offered NPR a similar rationale in an interview...
Say that Trump had come out and urged ordinary healthy Americans nationwide, even in places where at the time there were few known coronavirus cases, to buy and wear masks on March 15, contrary to WHO guidelines, and at a time when hospitals in virus hot spots such as New York City and elsewhere were facing shortages of masks for front-line health workers. Do you really think the Biden campaign and the New York Times editorial page would have cheered him on rather than attacking him?
Biden himself first showed up in public wearing a mask on May 25, nearly two months after Trump's White House Coronavirus Task Force, on April 3, recommended use of a cloth face covering.
There may be ways that Trump could have handled the pandemic better. And there may be ways that the WHO or the New York Times or NPR could have handled the pandemic better. Certainly there are ways the governors and mayors could have handled the pandemic better. People are angry that loved ones have died and that schools and businesses are closed because of the pandemic, and it is natural to look for someone to blame. But Monday-morning quarterbacking the mask question risks being misleading. It's not a particularly persuasive line of attack.