Harvard Professor Louis Menand writes in the December 20, 2021 New Yorker: "In the creation of the modern university, science was the big winner. The big loser was not literature. It was religion. The university is a secular institution...."
The Harvard Crimson's survey of the university's incoming freshman class in fall 2021 reported, "Freshmen mostly identified as not at all religious (32.3 percent) or not very religious (21.5 percent); only 2.4 percent of respondents said they were extremely religious.... In addition, the Class of 2025's religious involvement correlated with their political beliefs. No respondent who identified as extremely religious said they were very liberal, compared to 44.2 percent of nonreligious respondents. Likewise, only 4.2 percent of nonreligious respondents said they were very conservative, compared to 12.5 percent of extremely religious respondents."
The Crimson's annual staff diversity report offers a breakdown based on responses from 169 respondents on the student newspaper's staff: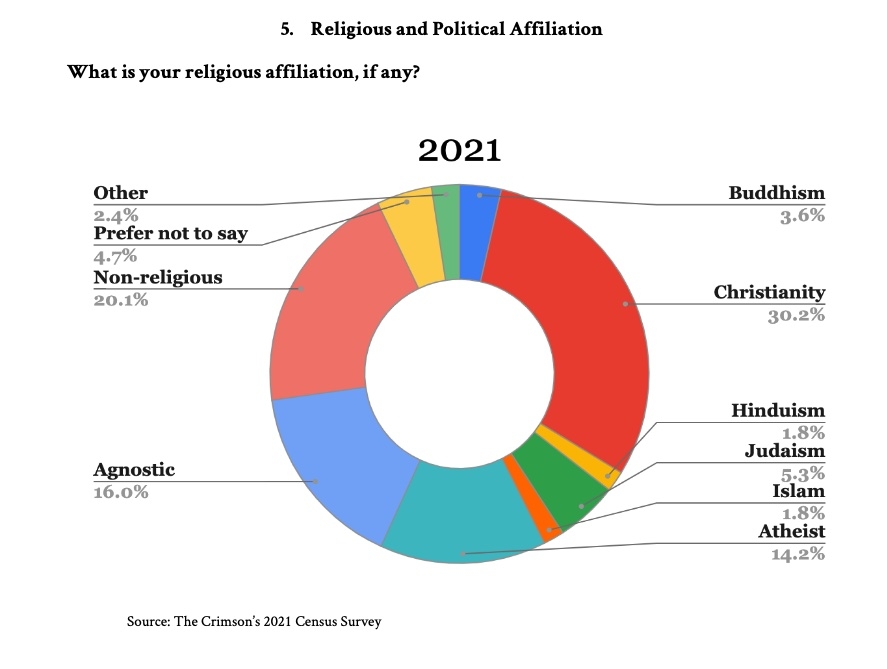 The relevant comparison for the U.S. overall, from Pew, is here. It'd be interesting if other newspapers, including the professional ones, were similarly transparent about the religious and political beliefs of their staff.