Cornel West, the Dietrich Bonhoffer Professor of Philosophy & Christian Practice at Union Theological Seminary and a former professor at Harvard and Princeton, is running for president as a representative of the People's Party, he announced today. A video posted to Twitter has West saying, "Neither party wants to tell the truth about Wall Street."
West has a famous friendship with conservative professor Robert George of Princeton's James Madison Program, but he also has a nasty, uncivil rhetorical streak. While the Class of 1943 university professor at Princeton, West described President Obama as "a black mascot of Wall Street oligarchs and a black puppet of corporate plutocrats."
When he left Harvard after a second tour, he blamed, without evidence, the influence of pro-Israel donors.
West announced the departure in an interview with a little-known publication called the Boycott Times.
"We got to hit taboo issues across the board. One of them is the Palestinian cause, wrestling with a serious moral spiritual political critique of the Israeli occupation. We've got to be as on fire, as if there was a Palestinian occupation of precious Jewish brothers and sisters, as there is an ugly Israeli occupation of precious Palestinian brothers and sisters," West said in the interview. He complained, "Right now, the market model has taken over. It's about donor money."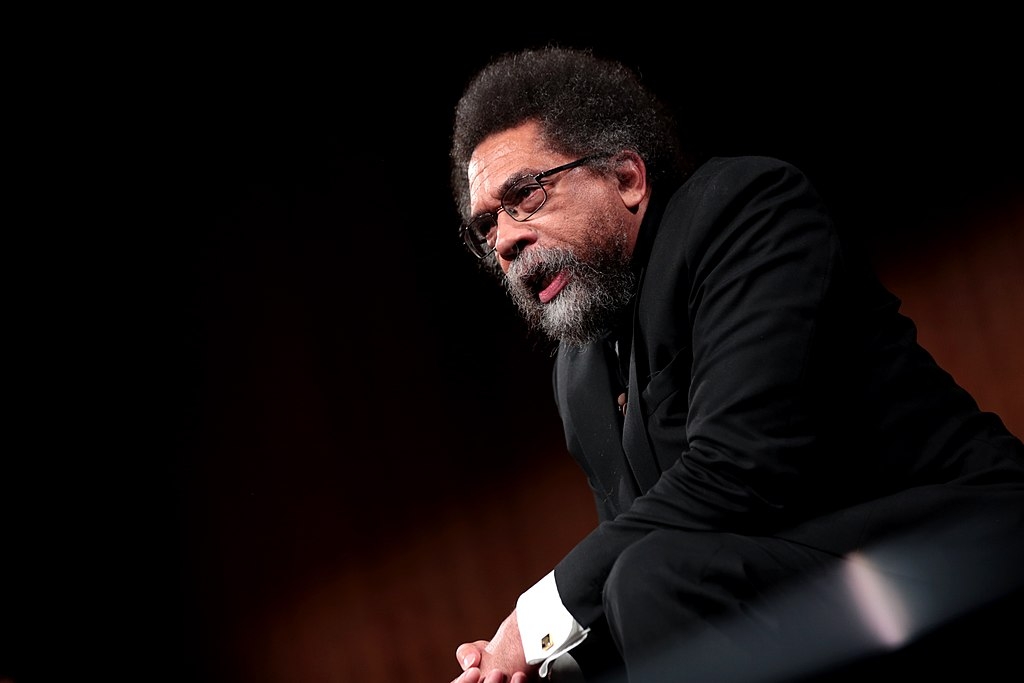 (Image source: Gage Skidmore/Wikimedia Commons)
West aired similar charges in a New York Times article. The Times reported: "He said he is mystified as to why he would not be given a tenure review, but offered some possibilities: a reluctance to grant a coveted position to someone of advancing age, whose best work might be assumed to be behind him, and concerns that his support for the Palestinian cause might offend the prevailing orthodoxy and donors."
"More than anything else, there's a certain disrespect for Black scholars and taboo issues that don't allow us to have a robust and respectful dialogue," the Times quoted West as saying. "And both of those are very much tied to the way in which the university's become commodified. It's a money-driven institution, and it's sad." The Times did not challenge West's claims or provide context that might undercut them.
The West campaign might siphon some votes away from Biden in a way that helps either the Republican candidate or another third-party candidate. West says "we're not talking about hating anybody, we're talking about loving." He could have fooled me: Fundamentally, it's not a particularly constructive thing for America to have a political figure running around denouncing Wall Street, Israel, "the market model" and "donor money."
As potentially dangerous as this is, it's also a reminder of how Black Americans have become integrated into the American political mainstream so thoroughly that they are across the spectrum—from Tim Scott and Larry Elder on the Republican side, to Kamala Harris on the Democratic side, to Cornel West on the extremist fringe. A debate between the five of them would make good television, and it might even be a healthy thing to see Scott and Elder and Harris explain why West's approach is a trap that would lead America to more poverty and less prosperity.