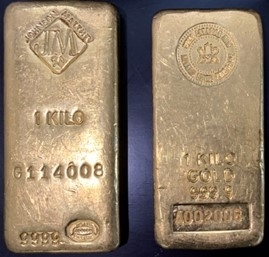 Pictures of gold bars that were released by federal prosecutors when an indictment against Senator Menendez was unsealed.
My latest at the New York Sun: "The one-liners almost write themselves. At least the allegedly dishonest senator was smart enough to get the bribes in honest money. ....Maybe the Justice Department should leave the Mighty Menendez alone and indict the rest of the senators for theft in connection with the inflation that has eroded the value of the fiat currency with which the non-gold-bar-keeping public has been stuck." Please read the whole column over at the Sun: "
Menendez Emerges in Court Filings as an Accused Crook Who Wanted To Be Paid in Honest Money
."