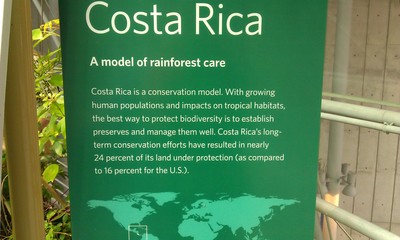 Sign in California Academy of Sciences rainforest exhibit touts government land ownership.
The
California Academy of Sciences
has a pretty cool four-story indoor rainforest, complete with birds, butterflies, and fish that delight both children and grownups. Alas, when you make your way up to the top, amid the butterflies is this ideologically freighted, and, so far as I can tell, inaccurate, sign. In case you can't make out the fine print in the photo or you have your email set to not open the photos in the email, here's the language: "Costa Rica: A model of rainforest care. Costa Rica is a conservation model. With growing human populations and impacts on tropical habitats, the best way to protect biodiversity is to establish preserves and manage them well. Costa Rica's long-term conservation efforts have resulted in nearly 24 percent of its land under protection (as compared to 16 percent for the U.S.)"
Where to begin? To start with, the sign does not define what "under protection" means. But the 16% figure almost certainly underestimates it for the United States. This 2008 United Nations report said that of America's 9.6 million square kilometers, about 2 million, or 21%, are protected. And given the pace at which landowners are agreeing to conservation easements and local land banks are buying up property to preserve it, I'd be surprised if today's figure weren't even higher. A February 2012 report by the Congressional Research Service found the federal government owns about 635 million of the 2.27 billion acres of land in the United States, or about 28% of the total — 193 million managed by the U.S Forest Service, 89 million by the Fish and Wildlife Service, and 80 million by the National Park Service. On top of this comes land devoted to state and local parks, some of which are quite vast, such as New York's 6 million acre Adirondack Park, which is itself about 50% of the entire land area of Costa Rica, as well as the considerable private land holdings or easements purchased by groups such as the Trustees of the Reservation (at least 12,000 acres), the Nature Conservancy (which claims 15 million acres in the U.S.), Connecticut Audubon Society (2,600 acres) and the like.
Meanwhile, the Costa Rican economy is based in some part on eco-tourism by Americans who make their money building houses and shopping malls and factories and office buildings on American land, or by working in them. If America goes much further in the direction of habitat preservation, how are our citizens supposed to be able to afford airfare to their Costa Rica rainforest canopy tours, or, for that matter, the $34.95 adult admission ticket to the California Academy of Sciences ($24.95 for children aged 4 to 11)?
Finally, has it occurred to the sign-writers at the Academy of Sciences that some of the most far-sighted and careful management of land resources takes place not by government agencies but rather by private owners, whether family farmers, or country home owners, or even owners of timber land who take a long term view? By that definition, the percentage of America that is "under protection" is almost certainly well above 16%.
Again, the rainforest exhibit was delightful, but it's disappointing to have one's experience disturbed by a sign that's not only factually inaccurate but that seems driven by an ideological agenda that favors government ownership of land — "preserves" — over private ownership, management, and stewardship, and that seems to suggest America is somehow worse than third-world countries at environmental protection. Costa Rica is terrific — my parents have been there, my wife has been there, my sister and sister-in-law have been there, and they all say it's amazing. But the CIA World Factbook lists Costa Rica's GDP per capita for 2011 at $11,500, less than a quarter of America's $48,100. The country may be a "conservation model," but if America chooses to follow its example, we shouldn't count on supporting ourselves by running eco-tours for wealthy Costa Rican visitors.