April 27, 2021 at 7:26 am
A New York Times editorial, reversing from the newspaper's longstanding position, opposes the federal tax deduction for state and local taxes. Says the Times: "New Yorkers, who pay higher taxes than most Americans, get more extensive and higher quality public services. Residents of other states choose lower taxes and less government. Federal tax policy should provide consistent support for either choice."
It's nice to see the Times waddling in to join the correct side of this fight. It's only about 15 and a half years after a New York Sun editorial took the same point of view. In that October 2005 editorial, "Seeing Daggers," the Sun wrote:

Continue Reading
April 25, 2021 at 8:25 pm
New York Times opinion columnist Ezra Klein has an article headlined "Let's Launch a Moonshot for Meatless Meat."
The crux of his argument is here:
There have been remarkable strides made in plant-based meat — witness the success of Beyond Meat and Impossible Foods — and milks. And the next step is cultivated meat, which is meat grown directly from animal cells. This isn't science fiction: There's now a restaurant in Singapore where you can eat lab-grown chicken made by Eat Just. Unsurprisingly, it tastes like chicken, because that's what it is.

But so far, most of these advances, most of these investments, are through private dollars, with the findings locked up in patents, by companies competing with one another for market share. We're going to need to move faster than that. "If we leave this endeavor to the tender mercies of the market there will be vanishingly few products to choose from and it'll take a very long time," Bruce Friedrich, co-founder and executive director of the Good Food Institute, told me.

Continue Reading
April 23, 2021 at 9:15 am
"Achieving Biden's Goals Demands Transformation of American Way of Life," a New York Times news section headline declares. If you liked the American Way of Life pretty much pre-Biden, this might seem threatening or ominous, though if you viewed the American way of life as in need of transformation, you might find it encouraging. Another possibility is that it's inaccurate, a headline-writer's effort to hype incremental changes into something worthy of grabbing a reader's attention.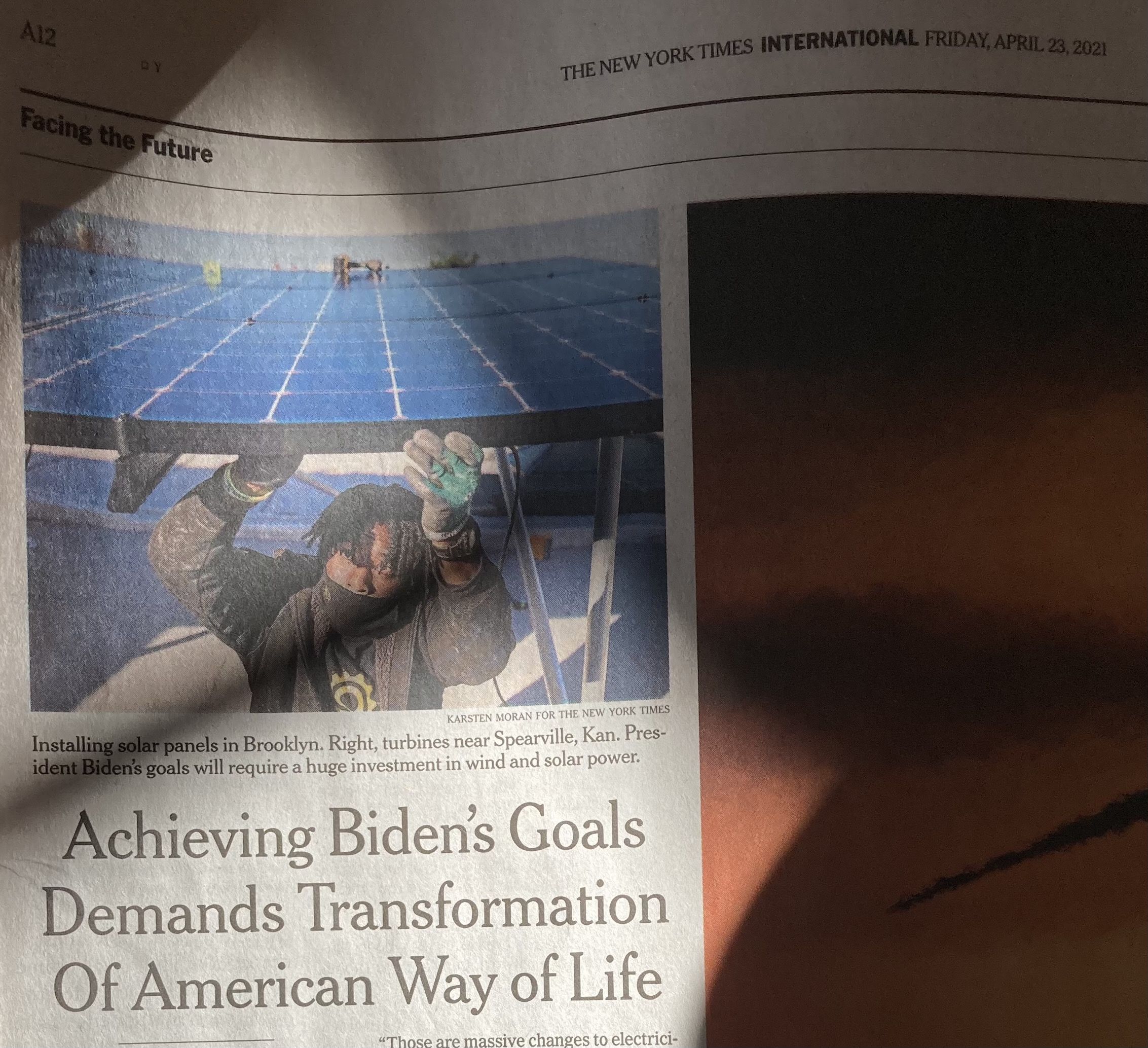 Meanwhile, same day, same newspaper, a few pages later, comes a David Brooks column, headlined, "The G.O.P. Is Getting Even Worse/Trumpians are having a venomous panic attack." Brooks writes,
When asked in late January if politics is more about "enacting good public policy" or "ensuring the survival of the country as we know it," 51 percent of Trump Republicans said survival; only 19 percent said policy....This level of catastrophism, nearly despair, has fed into an amped-up warrior mentality.

Continue Reading
April 19, 2021 at 9:20 pm
The Pentagon's post-decision protests to the press about President Biden's decision to withdraw from Afghanistan are the topic of my column this week. "The principle that the president is in charge of the executive branch applies equally whether the president is President Trump or President Biden," I write. Please check out the full column at the New York Sun ("Deep State Turns on President Biden Over Afghanistan") and Newsmax ("The Deep State Targets Biden.")
April 16, 2021 at 3:31 pm
It is a bitter irony that news of death of Vartan Gregorian, the educational and philanthropic leader who brought warmth, energy, and delight to institutions like the New York Public Library, Brown University, and the Carnegie Corporation of New York, arrived the same day that President Biden, breaking a campaign promise, said he would keep the refugee admissions limit at the Trump-era low of 15,000 a year.
Gregorian, though not formally a refugee, was born to Armenian parents in Iran, went to high school in Beirut, and arrived in the United States in 1956 to attend Stanford. His career is a reminder of the vast contributions that can be made to America by immigrants that it welcomes. Not every refugee or immigrant will be a Vartan Gregorian, but some of them will, and allowing fewer of them in each year reduces the chances that there will be one in the next batch.

Continue Reading
April 15, 2021 at 10:15 pm
From a Boston Public Library press release:
Mayor Kim Janey today announced that, once approved by its Board of Trustees, the Boston Public Library (BPL) will permanently eliminate late fines for patrons of all ages. This removal of late fines is supported by $125,000 of 'revenue relief' in Mayor Janey's 2021 budget and will go into effect on July 1, 2021. The policy change will remove barriers and increase access to BPL resources for patrons across the City of Boston.

"With the BPL Board of Trustees' approval, we look forward to eliminating library late fines and the equity imbalance they can create," said Mayor Janey. "The Boston Public Library provides important resources, programs, and services to our communities. By removing this barrier to access, we are ensuring that these resources are actually accessible to everyone."

Continue Reading
April 15, 2021 at 12:44 pm
The perverse incentives of the Pandemic EBT program—a family would lose $409 a month by switching three children to in-person from remote instruction—are the topic of an article I wrote for Education Next. Please check out the full article there, headlined, "The Government Is Paying Public School Parents Billions of Dollars to Keep Their Children Home."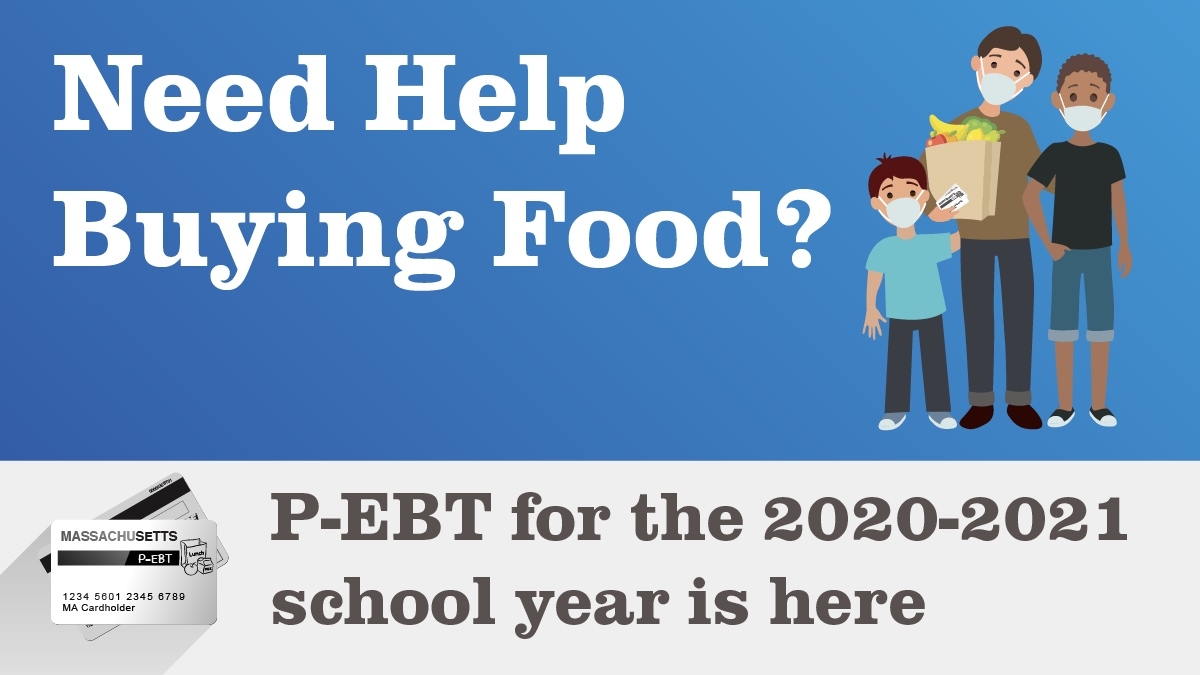 April 14, 2021 at 12:12 pm
So long as Major League Baseball is pulling the all-star game out of Georgia to protest voting laws, maybe it should stop playing games in Boston, Massachusetts, too? The city, home of the Red Sox, is sending mail signed by the former mayor—now a Biden administration cabinet member—requiring residents to answer a mailing or risk removal from the voter registration rolls.
It's funny how making it difficult for people to vote only seems to be an issue that people get upset about when it happens in a swing state. In overwhelmingly Democratic cities, City Hall runs the elections pretty much as it pleases, and protests are rare.
April 11, 2021 at 11:18 am
Over the weekend I got a chance to catch up with Jamie Dimon's shareholder letter for 2020. There's a lot there, and I don't agree with all of it, but there was a significant amount of good sense, especially the emphasis on economic growth. My favorite nuggets:
Democrats should acknowledge Republicans' legitimate concerns that money sent to Washington often ends up in large wasteful programs, ultimately offering little value to local communities. They could acknowledge that while we need good government, it is not the answer to everything. Democrats could also acknowledge that a healthy fear of a large central government is not irrational (like a Leviathan)....

Capitalism has lifted billions of people out of poverty. Capitalism, and the continuous and free movement of capital and, more important, of human talent, in the pursuit of happiness (the invisible hand of Adam Smith), creates a continuous exchange of information and ideas – and constant innovation. ...

Continue Reading
April 9, 2021 at 8:55 am
April 9, 2021 at 8:43 am
March 29, 2021 at 10:18 pm
Even the New York Times is now describing President Biden's plan as "the largest federal tax increase since 1942." It's the topic of my column this week. Please check out the full column at Reason ("Here's How Biden's Proposed Tax Increases Will Affect You"), Newsmax ("Joe Biden Is Demanding Higher Taxes...Will the Cycle Ever End?"), and the New York Sun ("Now They Tell Us: Biden Readies Radical Tax Hikes.")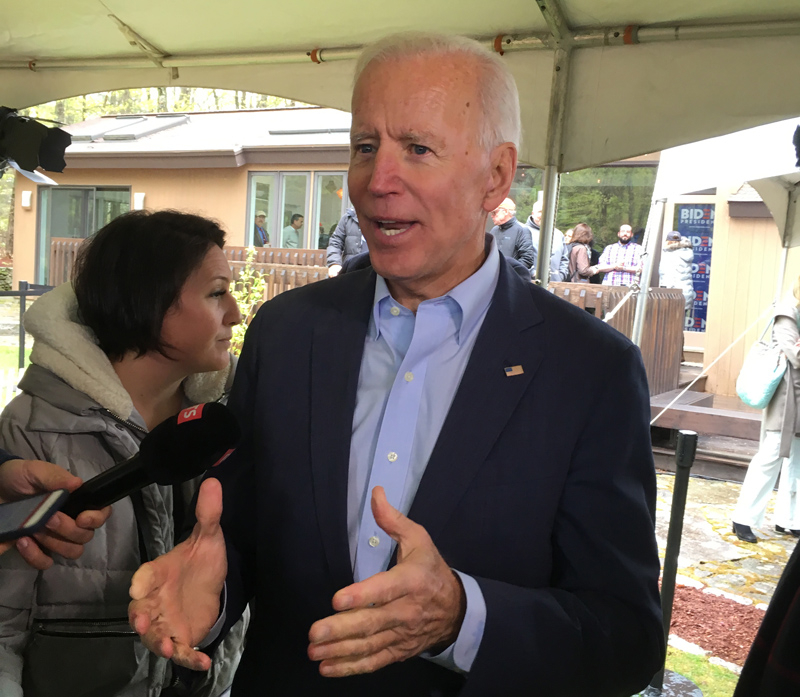 March 26, 2021 at 4:25 pm
March 17, 2021 at 7:38 pm
March 11, 2021 at 8:56 am