July 13, 2021 at 8:53 am
Slate has an interview with conservative book publisher Eric Nelson that made me chuckle:
Broadside publishes Ben Shapiro's book. What has the response to that been?

Continue Reading
July 13, 2021 at 8:42 am
July 6, 2021 at 5:37 pm
July 1, 2021 at 9:05 pm
Venture capitalist and tech pioneer Marc Andreessen appeared on the "Invest Like the Best" Podcast. From the transcript:
you have just this general collapse of civil order and this incredible spike in crime. Decided to turn our superstar cities into Gotham for some reason. Except apparently with no Batman. It's like a running joke out here. I have all these friends who like live in San Francisco, and I've been teasing them for years. It's just like, okay. I've been accusing my friends who live in San Francisco, specifically, the specific city of San Francisco. I've been telling my friends for years, you only live in San Francisco for the stories. You want the crazy stories.

Continue Reading
June 30, 2021 at 7:44 pm
News of the death of Donald Rumsfeld sent me to the glass-fronted bookcase where I keep some signed, rare, or otherwise special volumes, including Rumsfeld: A Personal Portrait, by Midge Decter.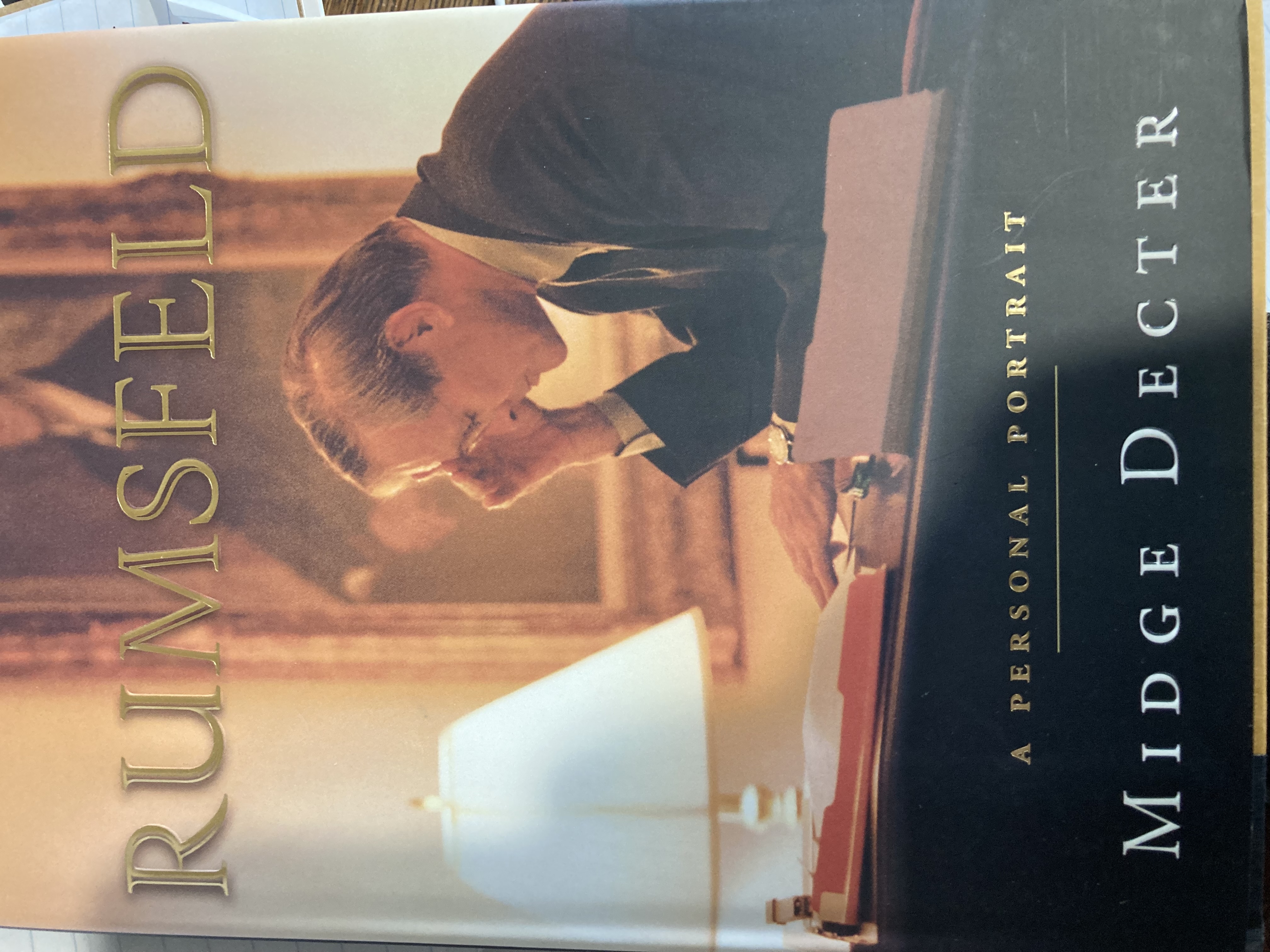 For me the book is a reminder of how quickly someone can go from hero to goat. In 2003, when the book came out, Rumsfeld was a hero, widely admired, as this passage suggests: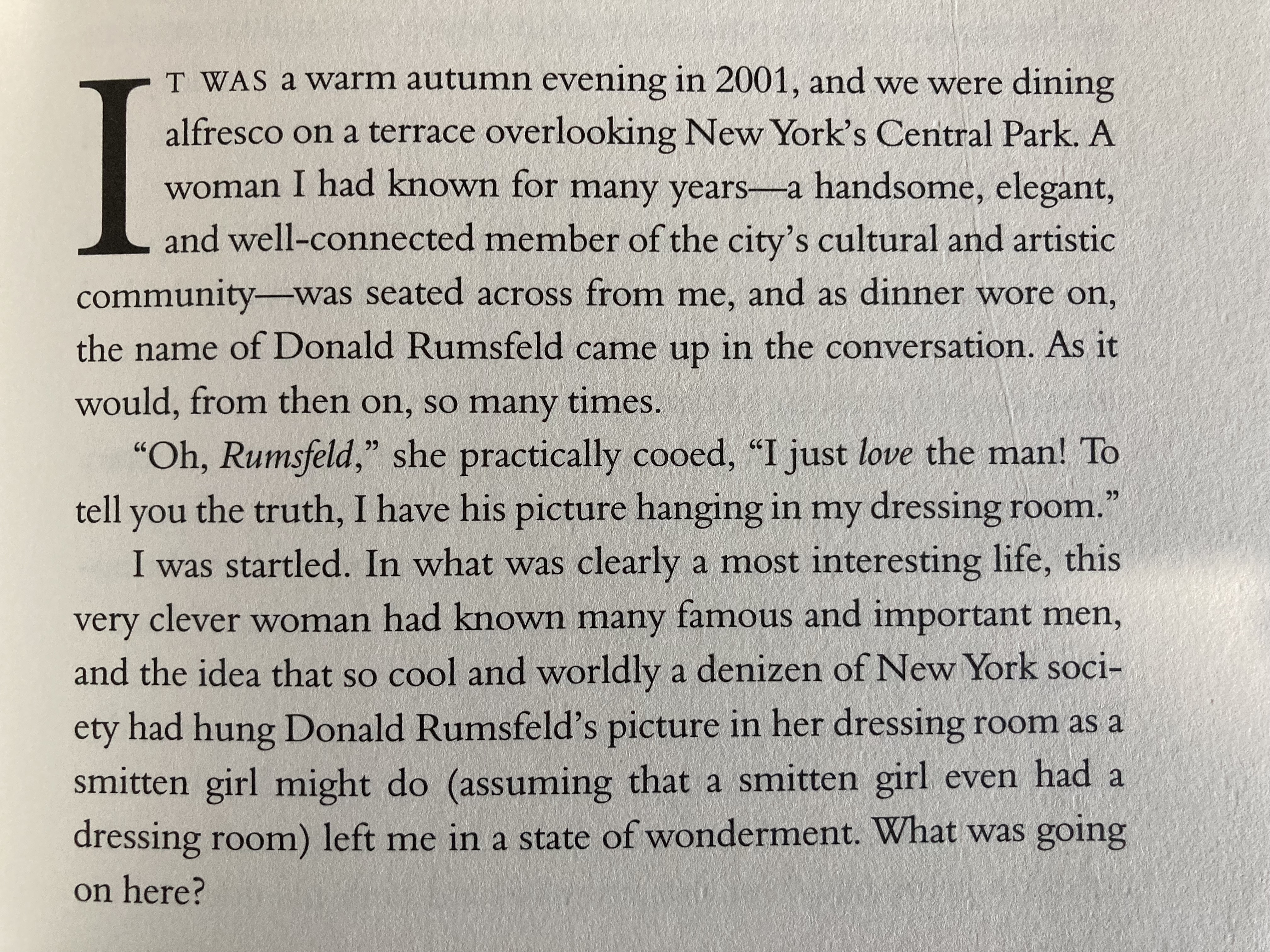 Before long, though, Rumsfeld was widely despised. By 2004, even neoconservative hawks like William Kristol of the Weekly Standard were calling for his ouster; Rumsfeld eventually did resign after voters punished Republicans for the Iraq War in the 2006 congressional elections.

Continue Reading
June 30, 2021 at 8:18 am

Continue Reading
June 29, 2021 at 6:10 pm
The question of whether extended or enhanced unemployment benefits are keeping people from working is one of those classic cases where the New York Times and the Wall Street Journal both wrote the same story on the same day and came up with diametrically opposed answers. That—and how unemployment insurance might be imaginatively rethought to improve incentives—is the topic of my column this week. Please check out the full column at Newsmax ("Pay People to Not Work—and They Won't") and at the New York Sun ("Time To Reform Unemployment System—Before the Next Crisis").
June 28, 2021 at 8:48 pm
From a pool report of President Biden's remarks Monday night June 28 at a virtual Democratic National Committee fundraiser: "I just got back, by the way, from Europe, after being there for I guess 13 days – I forget how many days."
Biden left for Europe June 9 and was back in Washington on June 17, so the 13 day "guess" is definitely off. Maybe it seemed that long.
June 26, 2021 at 9:53 pm
June 26, 2021 at 9:47 pm
Venture capitalist and tech pioneer Marc Andreessen gave an interview to Noah Smith on the Substack newsletter platform:
Peter Thiel has made the characteristically sweeping observation that AI is in some sense a left wing idea -- centralized machines making top-down decisions -- but crypto is a right wing idea -- many distributed agents, humans and bots, making bottom-up decisions. I think there's something to that. Historically the tech industry has been dominated by left wing politics, just like any creative field, which is why you see today's big tech companies so intertwined with the Democratic Party. Crypto potentially represents the creation of a whole new category of technology, quite literally right wing tech that is far more aggressively decentralized and far more comfortable with entrepreneurialism and free voluntary exchange.

Continue Reading
June 17, 2021 at 10:52 pm
ProPublica, the nonprofit news organization that recently published what it said was the tax information of the 25 richest Americans, is now out with the tax information of a candidate for Manhattan district attorney, "Tali Farhadian Weinstein, who is married to hedge fund manager Boaz Weinstein."
"The Weinsteins are among thousands of wealthy people whose tax return data ProPublica has obtained," the article says.

Continue Reading
June 14, 2021 at 7:24 pm
From the U.S. Census Bureau's Current Population Survey comes this just-released graphic showing that in 2020, 87.4 percent of Asian children under 18 lived with two married parents, and 75.5 percent of non-Hispanic white children did, but a relatively much smaller 37.9 percent of Black children did.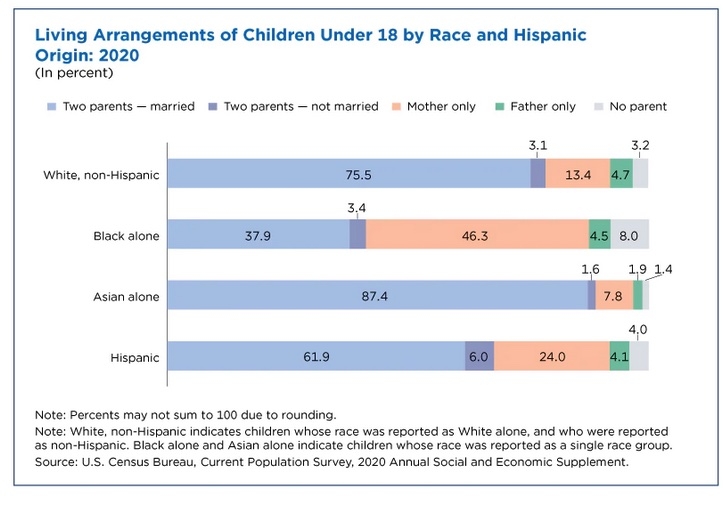 When the government tries to encourage marriage it winds up getting criticized, with reason, as paternalistic, but a lot of data shows that the children who grow up in two-parent households wind up doing better in health, education, and income measures. The federal marriage penalty surely plays a role here, and perhaps so do the various legacies of slavery, racism, and ill-conceived welfare programs. When Daniel Patrick Moynihan tried to point this out back in 1965 he almost got canceled. Kay Hymowitz had a pretty good update in 2005.
June 13, 2021 at 10:41 am
Massachusetts and Rhode Island have succumbed to what they describe as as a federal "requirement" for "national uniformity" when it comes to mileage-based exit numbers rather than sequential ones. New Hampshire's governor, Chris Sununu, on the other hand, is promising, "we are going to fight it the whole way." The situation—and the tension between federal and state power—is the topic of my most recent column. Please check out the full column at the New York Sun: "Get Set for the Battle of Kancamagus, as Federal Road Sign Mandates Test America's Character."
June 1, 2021 at 9:20 pm
May 30, 2021 at 7:53 pm
Axios reports: "President Biden is considering naming two Kennedys to represent him abroad: Caroline Kennedy is in line to be U.S. ambassador to Australia, and Vicki Kennedy is on his radar for Western Europe, people familiar with the matter tell Axios. Why it matters: With JFK's daughter and the widow of Sen. Ted Kennedy, Biden would be reaching outside of his pool of core campaign donors."
Actually, Federal Election Commission records show Victoria Kennedy donated $2,800 to Biden for President on May 31, 2019. Caroline Kennedy gave two separate contributions to Biden for President on March 29, 2020, one for $2,800 for the primary and one for $2,100 for the general election; she also gave $2,500 to the Biden Victory Fund on September 7, 2020, and $1,050 to Biden for President on December 6, 2019. Edwin Schlossberg, Caroline Kennedy's husband, has donated at least another $14,050 to Biden for President and at least $32,200 over the past three years to the Democratic National Committee.

Continue Reading