February 5, 2018 at 11:37 pm
The New York Times website was leading with charts of the Standard & Poor's 500 Stock Index "over the last year" and "the last week." If your investment time horizon is longer-term than that, you might want to take a look at this chart from J.P. Morgan Chase's quarterly guide to the markets: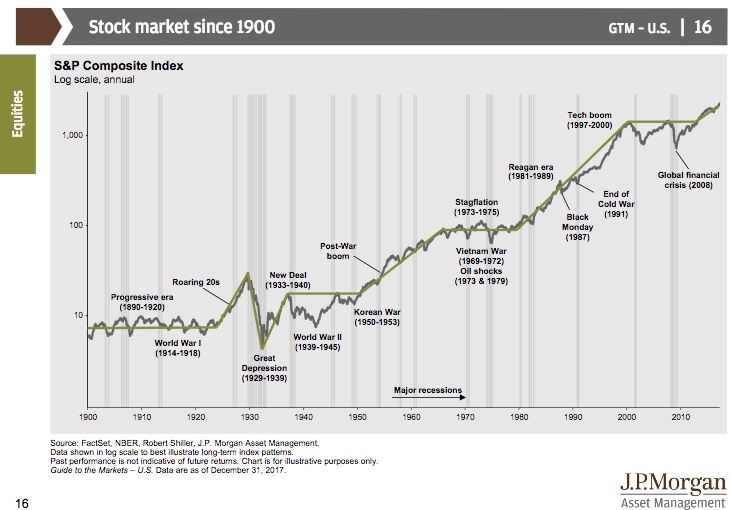 That chart, covering the stock market since 1900, includes two long booms, from roughly 1950 to 1970 and from roughly 1980 to 2000. You might even look at it as one long 1950 to 2000 boom, with a decade-long exception known as the 1970s. By comparison, the post-financial-crisis rally that some people say is getting old may be really just getting started. The long term trend has been up. That trend could always change, of course — "past performance is not indicative of future returns," it says at the bottom of the chart. But sometimes stepping back and looking at the longer term story helps provide some useful perspective.
February 5, 2018 at 11:07 pm
The Mulvaney and Nunes memos and the rule of law are the topic of my column this week. Please check the full column out at the New York Sun (here) and Newsmax (here).
February 4, 2018 at 2:20 pm
The aftermath of the 2016 election is prompting something of a long overdue housecleaning at the FBI.
Director James Comey was fired. Deputy director Andrew McCabe retired. FBI agent Pete Strzok and FBI lawyer Lisa Page were reassigned after their text messages were exposed. The House Intelligence Committee has released, over the bureau's objections, the Nunes memo faulting the bureau for "abuses" in its application to wiretap a Trump campaign aide.
So long as Congress and the Trump White House are taking a look at FBI shenanigans, let them not forget the case of Supervisory Special Agent David Chaves.

Continue Reading
February 4, 2018 at 11:26 am
Damon Linker has a smart piece in the New York Times book review that ends, in part:
For many liberals, politics involves bureaucratic administration, the management of government benefits and the jostling of interest groups. One party or coalition tweaks the numbers in one direction, another nudges them a different way. Such fiddling with policy is a good part of modern politics. But it's not the whole of politics. At a more elemental level, the one to which Aristotle directed much of his attention, politics is about more existential issues: this bounded community in this place with this history and heritage, determining its own character for itself, deciding who is and who is not a citizen, who will rule and in the name of which vision of the good life.

Continue Reading
February 2, 2018 at 3:03 pm
Elisabeth Rosenthal writes in the New York Times: "Medicare, by law, is not allowed to negotiate discounts on drug prices. But you can bet Amazon-JPMorgan-Berkshire will."
For what it's worth, the pharmaceutical industry calls the claim that Medicare can't negotiate drug discounts a "myth." It points out that the Medicare prescription drug benefit is administered through pharmacy benefit managers that "already negotiate discounts and rebates with the manufacturers."
I did check the text of the law, the Medicare Prescription Drug, Improvement, and Modernization Act of 2003. It does include this language:

Continue Reading
February 1, 2018 at 10:54 pm
It's been our occasional practice, verging on habit, around here to publish an annotated version of the State of the Union Address. Here is one from 2015, and one from 2013. Why should President Trump be spared the same treatment we gave President Obama? So here goes, with my comments interspersed in brackets throughout and at the end:
THE PRESIDENT: Mr. Speaker, Mr. Vice President, Members of Congress, the First Lady of the United States, and my fellow Americans:

Continue Reading
January 31, 2018 at 2:57 pm
Harvard University's search for a new president was the topic of my column this week. Please check it out at Newsmax (here) and the New York Sun (here).
January 31, 2018 at 2:50 pm
The statement from Amazon, JP Morgan Chase, and Berkshire Hathaway announcing their new joint healthcare venture as "an independent company that is free from profit-making incentives and constraints" made me chuckle.
There's a view that "profit-making incentives" are a problem with American health care. But if Jeff Bezos, Jamie Dimon, and Warren Buffett really think that "profit-making incentives" are so harmful, they've sure chosen odd careers as leaders of for-profit companies. In fact their entire venture is a demonstration of how "profit-making incentives" can actually at least potentially be helpful in health care. Buffett says he wants to "check the rise in health costs." One reason he is motivated to do that is surely that those costs, borne by employers, cut into profits.

Continue Reading
January 30, 2018 at 10:53 am
Juleanna Glover is someone I have a lot of respect for, but I'm skeptical of her scenarios for a "serious third-party run" in 2020:
Ask your neighbor whether the idea of a Joe Biden-Ben Sasse independent ticket is appealing — with Mr. Biden pledging to serve only four years (to address concerns about his age). Jeff Flake or Bob Corker could be a contender.

Another possibility: a business executive with a record of sound leadership, moral authority and a quick wit: the financier David Rubenstein, Ginni Rometty of IBM or Jamie Dimon of JPMorgan Chase, perhaps? How about a centrist Republican governor like Larry Hogan of Maryland, John Kasich of Ohio or Charlie Baker of Massachusetts? And then, of course, there's Oprah.
For years I've been trying to get Michael Bloomberg to run for president along these lines, and I am a happy constituent and fan of Governor Baker's. But I don't see it happening with these people in this cycle. Let's take them one at a time:

Continue Reading
January 30, 2018 at 9:43 am
| | | |
| --- | --- | --- |
| | | |
My post from the other day about the Oscar-nominated movie "The Post," and the dangers of journalists "trying to force events into the Pentagon Papers-Watergate-Washington Post narrative in cases when the actual true narrative is something quite different," prompted a comment from reader-watchdog-community member-content co-creator Lyle, who got at the important matter of incentives: "pushing scandal into the Watergate mold is how reporters get famous," Lyle wrote, adding, "Woodward and Bernstein were just more or less anonymous reporters before the break in but got famous as a result of their work. Every reporter wants that and the big bucks that come from writing your book about the scandal."
That's exactly how the incentives work. It's hard to think of a journalist who ever got a book deal, or a television contract, or a Pulitzer Prize, or a raise, or a promotion, or a better job at another publication, by saying, "you know what, this story isn't really that big a deal, let's drop it."

Continue Reading
January 26, 2018 at 1:51 pm
The movie "The Post" garnered Oscar nominations this week for Best Picture and Best Actress, reinforcing the movie's narrative of journalists as heroic figures who bravely challenge the government, expose wrongdoing, and report the truth.
I saw the film last weekend and enjoyed it. From the point of view of movie craftsmanship, it's hard to go wrong with the talent combination of Steven Spielberg, Meryl Streep, Tom Hanks, and John Williams. I particularly loved the pressroom scene and the sound of the newspapers coming off the press, which brought back some fond personal memories from my college days.

Continue Reading
January 25, 2018 at 1:31 pm
| | | |
| --- | --- | --- |
| | | |
Section 340B of the Public Health Service Act was enacted in 1992. It allows certain hospitals access to discounts on billions of dollars worth of drugs. A new article by Sunita Desai and J. Michael McWilliams in the New England Journal of Medicine takes a skeptical look at "unintended consequences" of the program:
The program is explicitly intended to encourage hospitals to dedicate resources generated from the discounts to expanding or improving care for vulnerable populations, particularly those served by safety-net providers. Accordingly, in assessing eligibility, the program favors hospitals that disproportionately serve low-income patients, but it does not require or provide incentives for hospitals to repurpose financial gains to enhance care for underserved patients. Rather, the discounts — which range from 20% to 50% — only strengthen the incentives for hospitals to supply drugs to patients who have generous insurance coverage. The extent to which hospitals support the mission of the program is subject to minimal oversight.

Continue Reading
January 23, 2018 at 4:18 pm
How family factored into the political decision-making of Hillbilly Elegy author J.D. Vance and New York Republican Harry Wilson is the topic of my column this week. Please check the full column out at the New Boston Post here.
January 18, 2018 at 11:37 am
When Amazon first announced back in September that it was searching for a site for a second headquarters, I mentioned Boston and Canada as possibilities, but wrote, "if I had to predict or bet, I'd suspect that the company winds up choosing Washington, D.C., Virginia, or Maryland."
Amazon this morning announced its 20-site list of finalists. It includes Boston and Toronto. But three of the 20 sites — Montgomery County, Md.; Washington, D.C., and Northern Virginia — are Washington or Washington suburbs.
I could wind up being wrong in the end. But so far, that original post is holding up pretty well. It said, in part:

Continue Reading
January 17, 2018 at 3:47 pm
Apple says it will pay $38 billion in U.S. taxes to bring home cash that it had stashed abroad.
It's an astonishing number, even by the vast standards of Washington spending.
To understand just how much money this is, consider that in 2014 the entire bottom 50% of individual income tax filers paid a total of $37,740,000,000 in federal income taxes, according to the Tax Foundation.
Or consider that as recently as 1947 the entire federal budget outlays were $34.5 billion (in 1947 dollars, but still).

Continue Reading