October 28, 2022 at 4:58 pm
The Biden administration's attempt to make a political prisoner out of a former aide to President Trump, Steve Bannon, is the topic of my column this week. Please check the full column out at Newsmax ("Why Steve Bannon Should Be Freed") and at the New York Sun ("Free Steve Bannon").
October 18, 2022 at 7:09 pm
The 200th birthday of the Sunday Times of London is the topic of my column this week, which also looks at the connection between the press and freedom. Please check out the full column at Newsmax ("Liberty Still Depends on a Free Press Leading the Way"), Reason ("The Press Idolizes Politicians. Instead, It Needs To Hold Them Accountable.") and the New York Sun ("Extraordinary Effort in the Cause of Freedom").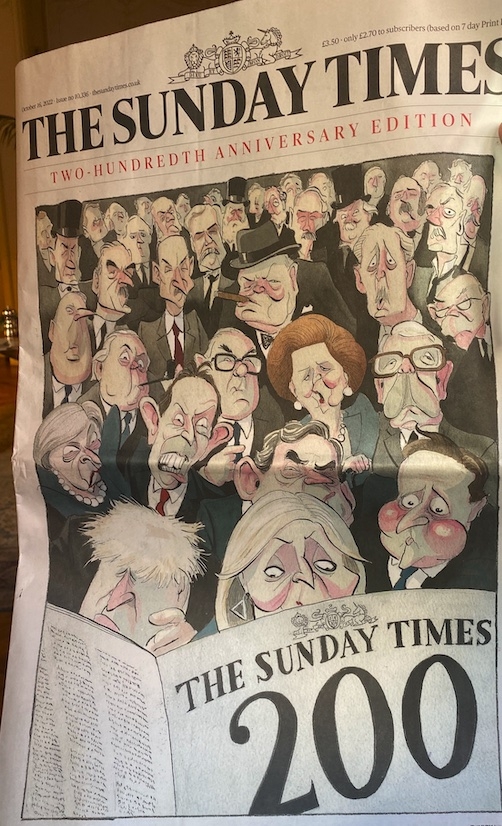 October 13, 2022 at 5:47 pm
October 12, 2022 at 8:32 am
October 6, 2022 at 8:14 am
Toward the end of a book review by Scott Gottlieb in the Wall Street Journal comes this passage:
We now know that scientists at the Wuhan Institute were performing research on coronaviruses by infecting animals whose immune systems had been engineered to resemble that of humans—a line of research that could have helped a virus adapt to infect people. We know that there was an outbreak of a flulike illness at the institute in the fall of 2019, around the time the virus is believed to have made its jump to humans. We know that scientists at the Wuhan Institute conducted research on novel coronaviruses in labs that took only basic precautions to guard against spread outside the lab. And [the head of the Center for Emerging Infectious Diseases at the Wuhan Institute of Virology, Shi Zhengli] never disclosed to the World Health Organization the full sequences of the viruses she had in her possession. We don't know, for example, if the Wuhan Institute had the strain found in the pangolins in March 2019.

Continue Reading
October 4, 2022 at 8:13 am
October 2, 2022 at 8:10 pm
October 2, 2022 at 10:54 am
A press release from Governor DeSantis about the response to Hurricane Ian includes the following about licensing:
· Temporary Veterinarian License Application: The Florida Board of Veterinary Medicine has a 30-Day Temporary Veterinarian License available to out-of-state veterinarians who do not currently hold a Florida Veterinary License but wish to come to Florida to provide relief veterinary services.

· DBPR EMERGENCY ORDER 2022-02 waives the $200 application fee for the issuance of a temporary license to out-of-state veterinarians, effective with the date corresponding with the effective date of Executive Order 22-218, as amended by Executive Order 22-219....

· DBPR Emergency Order 2022-01 extends the renewal deadline from September 30 or October 1, 2022, to October 31, 2022, for the following licenses:

Continue Reading
October 2, 2022 at 10:27 am
Ross Douthat, writing in the New York Times, under the headline "Will Nostalgia Kill the British Right":
At the moment the electoral sweet spot for right-of-center governments in the Western world is a mixture of cultural (not religious) conservatism and relative economic moderation — an anti-libertarian right-wing politics, favorable to the welfare state and skeptical of immigration, that appeals to constituencies buffeted by globalization and anxious about national identity....

But Truss has gone in the opposite direction, not just with her tax-cut push, but with a push for expanded immigration — a double-down on a 1980s growth prescription, a Reagan-Thatcher nostalgia trip, that's carried the Tories away from their own constituents and earned her party absolutely apocalyptic poll numbers.

Continue Reading
October 2, 2022 at 10:07 am
September 23, 2022 at 8:17 am
The dozen largest contributions to a ballot initiative campaign for a Massachusetts tax increase were all from teachers unions or affiliates, I report at Education Next. Please check out the full story, headlined "Tax Tenure?"
September 22, 2022 at 8:57 am
Bloomberg News this week uncorked its long-anticipated article about Ken Griffin's arrival as "instantly Florida's richest person after moving his family and financial empire to Miami from Chicago."
The line in Amanda L. Gordon's dispatch that really caught my attention was the shade cast by Alberto Ibarguen, president and CEO of the Knight Foundation. Gordon quotes Ibarguen as saying, "This is really an inorganic infusion of upper-middle-class and rich individuals that are suddenly coming in and widening the wealth gap even more."
"Inorganic"? Ibarguen makes Griffin sound like some kind of chemically fertilized supermarket tomato. Or a cheap pair of polyester pants. Or the vinyl upholstery on the subcompact rental car tourists pick up in the Alamo lot at MIA. What could Ibarguen possibly have been thinking?

Continue Reading
September 5, 2022 at 4:46 pm
"The Federal Department of Education Now Has a Chief Economist. Maybe What It Really Needs Is a Chaplain," is the headline over a column I wrote for Education Next. Please check it out in full if you are interested in that sort of thing. The subheadline is "A Christian case for student loan relief?"
August 31, 2022 at 6:18 pm
Vanguard is telling account holders that if they want to keep getting paper statements, tax forms, or mutual fund annual reports in the mail and don't have at least $1 million with Vanguard, "you may be subject to a $20 annual account service fee per Vanguard Brokerage Account."
The timing of this is strange. After years of gains, the stock and bond markets are down, and Vanguard decides that now it's a good time to stop mailing shareholders statements and mutual fund reports that allow them to see how much they have lost?
Also, given that Vanguard has earned a reputation over the years for low fees and for welcoming customers who aren't yet wealthy, the $20 per account for everyone without $1 million seems fairly steep.

Continue Reading
August 25, 2022 at 4:49 pm