August 24, 2015 at 4:07 pm
The prospect of President Donald Trump restricting immigration, imposing protectionist tariffs on trade, and raising marginal tax rates is spooking global stock markets, I write in my column this week. Please check it out at the New York Sun (here), Reason (here), and Newsmax (here).
August 24, 2015 at 12:55 am
Rupert Murdoch is encouraging Michael Bloomberg to get into the presidential race. It's interesting to think about as a contrast to Donald Trump on trade, immigration, and even tax. No one else, with the notable exception of Megyn Kelly, seems willing or able to stand up to Mr. Trump.
August 20, 2015 at 2:37 pm
Back on August 11, I predicted that Hillary Clinton's team, defending her in the email situation, would cite Daniel Patrick Moynihan's book on overclassification
.@jimgeraghty http://t.co/1J0zhiqOGS book that team Hillary should be reading

— Ira Stoll (@IraStoll) August 11, 2015.
Sure enough, today's Wall Street Journal Best of the Web column by James Taranto, headlined, "The Moynihan Excuse," cites the New Yorker's Jeffrey Toobin making exactly that argument. Only a 9 day lag time, but hey, it's the summer.
August 20, 2015 at 11:11 am
Grand Rounds, a four-year-old company that has raised $106 million in venture capital and counts Comcast, Costco, and Jamba Juice as clients, is the topic of an article in Bloomberg News.The company and others like it offer second opinions on whether costly surgery is actually necessary:
Grand Rounds Chief Executive Owen Tripp says about two-thirds of all its reviews lead to changes in diagnosis or treatment. The number "still shocks me," Tripp says. "Most of the frontline care we deliver today is either inadequate or ineffective."

Continue Reading
Rent Control In Stockholm Means a 20 to 30 Year Wait For an Apartment
August 20, 2015 at 9:54 am
The Guardian takes a look at how rent control doesn't work in Stockholm, Sweden:
the system is experiencing acute pressures. Building of rental homes almost dried up after a financial crisis in the early 1990s, and there is a dire shortage of properties. Demand is such that it is almost impossible to get a direct contract. With nearly half of all Stockholmers – about 500,000 people – in the queue, it can take 20 or 30 years to get to the top of the pile....

The result is a thriving rental property black market, with bribes of as much as 100,000 kronor per room to obtain a direct contract, McCormac says. Many people sublet space in their rental apartments. When one tenant advertised a tiny closet last year for rent, there were many potential takers. "It is almost impossible for immigrants and new arrivals to penetrate this market – it is all about who you know and how much money you have," McCormac says.

Continue Reading
The Presidential Campaign's Missing Issue Mystery
August 18, 2015 at 10:24 am
The mystery missing issue in the presidential campaign — monetary policy — is the topic of my column this week. Please check it out at the New York Sun (here), Reason (here), and Newsmax (here).
August 16, 2015 at 10:50 pm
Donald Trump's presidential campaign has put out a detailed policy paper on immigration, claiming "black Americans have been particularly harmed" by the influx of immigrants. Mr. Trump's position paper says:
Raising the prevailing wage paid to H-1Bs will force companies to give these coveted entry-level jobs to the existing domestic pool of unemployed native and immigrant workers in the U.S., instead of flying in cheaper workers from overseas. This will improve the number of black, Hispanic and female workers in Silicon Valley who have been passed over in favor of the H-1B program. Mark Zuckerberg's personal Senator, Marco Rubio, has a bill to triple H-1Bs that would decimate women and minorities.

Continue Reading
August 16, 2015 at 8:46 pm
The Bernie Sanders 2016 campaign store is telling prospective buyers to "allow 2-3 weeks for delivery" of a T-shirt with the Bernie 2016 logo.
A Sanders fan might say that this shows the high demand; they're essentially sold out and need to re-order. A Sanders skeptic might say that this is what you can expect under the Sanders policy prescription of socialism and protectionist isolationism on trade.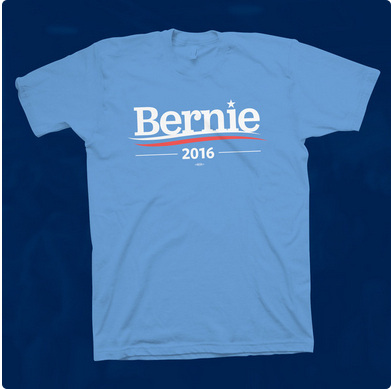 The T-shirt is "union-made and printed in the USA." Under socialist protectionist isolationism, products are made in America, which is good for a few unionized textile employees. But the result is that the shelves are bare, and consumers have to wait weeks to obtain the products they actually want.

Continue Reading
What Fred Wilson and Warren Buffett Have in Common
August 14, 2015 at 12:46 pm
Bloomberg has a news article about Etsy, the Brooklyn-based craft and design marketplace website, using an Irish subsidiary "that shrouds its offshore tax-cutting arrangements in secrecy."

Continue Reading
AEI's Strain on the BLS Budget
August 14, 2015 at 12:24 pm
A resident scholar at the American Enterprise Institute, Michael Strain, has a piece in the Washington Post faulting Congress for wanting to "cut" the budget of the Bureau of Labor Statistics.
The article, which appears under the headline, "Congress is trying to make it harder to know how the economy is doing," is a fascinating example of how difficult it is to change anything in Washington for the better, so it's worth examining in detail.
First, it's not just the left in Washington that pushes for more spending. The American Enterprise Institute is a center-right think tank.

Continue Reading
August 14, 2015 at 11:03 am
Sesame Workshop has reportedly cut a deal with HBO to produce 35 new "Sesame Street" episodes a year, "up from the 18 it now produces" with PBS. It's enough to make one wonder why exactly, we need a taxpayer subsidized public television network at all, if free-market capitalism can do pretty much the same thing nearly twice as productively. Maybe in the days of limited broadcast spectrum there was a reason for it, but in the era of thousands of cable channels and streaming video on the internet, it's more difficult to see the reasoning. Maybe I am missing something.
Whole Foods John Mackey on Why Intellectuals Hate Capitalism
August 13, 2015 at 9:34 am
Reason has an interesting interview with John Mackey, the founder of Whole Foods. Here he is talking about the minimum wage:
let's say Tom wants to go work for Whole Foods Market, and Tom is willing to work for Whole Foods for, you know, $10 an hour, and we want to hire Tom, and we think Tom is worth about $10 an hour, so we come together, and Tom's winning. We're not forcing him to work there, and he's getting benefits, he's getting opportunities to advance, learn new skills, and make more money in the future. We're gaining from it because we think he's going to be a good employee, and we think $10 is a fair wage. However, the government may not let us do that. They may say, "You can't pay Tom $10 an hour, because we're going to set a minimum wage of $15 an hour." So the government's basically saying, "We know better what's for Tom, and we know better what's for you, and we're not gonna let you guys freely come together and do voluntary exchange."

Continue Reading
August 13, 2015 at 12:37 am
New York this week released the results of statewide standardized testing, and the numbers were a reminder that Eva Moskowitz has had a more consequential career as head of the Success Academy network of charter schools than she would have had had she won election as Manhattan Borough President.

Continue Reading
The Underestimated Jimmy Carter
August 13, 2015 at 12:00 am
The news that President Carter's cancer has spread is a moment to reflect on the under-appreciated achievements of our 39th president.
It's a shame that it took the ascendance of Barack Obama, a president who, unlike Mr. Carter, hardly ever cooperates with Republicans to move policy toward more free markets, to cause an appreciation of Mr. Carter's tilts toward centrist moderation. But there were some, as I trace in a couple of pages of the book JFK, Conservative.
Mr. Carter appointed as chairman of the Federal Reserve Paul Volcker, who eventually, (though too late for Mr. Carter's reelection) succeeded in reining in inflation.

Continue Reading
August 12, 2015 at 11:16 pm
Republicans should throw the "incorrigibly vulgar" Donald Trump out of the party, George Will writes in his Washington Post column.