December 12, 2013 at 10:48 am
The Massachusetts ObamaCare exchange Web site was down for 15 hours yesterday and this morning for "planned maintenance and upgrade activities."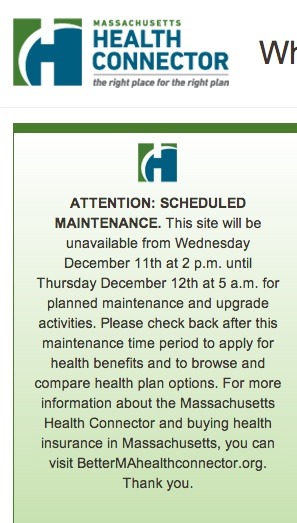 Can you think of a commercial Web site that would plan to be offline for 15 hours in the middle of a peak shopping period?

Continue Reading
December 10, 2013 at 8:21 pm
The New York Post reports:
As if a significantly larger contract wasn't incentive enough, the Seattle Mariners offered Robinson Cano something that no state in the metropolitan area could offer — no state income tax.

Cano, who agreed to a deal last week with the Mariners for $240 million over 10 years, besting the Yankees' seven-year, $175 million offer, will actually earn roughly $107 million more on his new contract instead of staying with the only team he has ever known.

Because Washington does not have a state income tax, the All-Star second baseman's deal is worth about $42 million more in after-tax pay than the Yankees' offer, according to Robert Raiola — a certified public accountant who specializes in sports and entertainment — who spoke with Bloomberg News.
Link via Frazer Rice.
December 10, 2013 at 9:58 am
The success of Charles Krauthammer's book is one sign among many that neoconservatism is on the rise. My column this week discusses that trend and Dr. Krauthammer's interview with Jon Stewart in which Dr. Krauthammer gave liberals credit for Social Security, Medicare, and Medicaid and said Republicans should focus on reforming them, not rolling them back. Please check the column out at Newsmax here.
December 10, 2013 at 9:47 am
Twenty-eight members of the Santa Monica, Calif., Police Department earned more than $200,000 last year, the Santa Monica Daily Press reports. "The top-paid member, a sergeant, made $314, 360."
Blogger Steve Bartin comments: "This will not be part of Barack Obama's next speech on inequality."
CBO Income and Tax Distribution Charts
December 9, 2013 at 9:36 pm
The nonpartisan Congressional Budget Office is out with an analysis of "The Distribution of Household Income and Federal Taxes, 2010," which, unlike many other such studies, includes payroll taxes, federal excise taxes, and the corporate income tax paid by individual shareholders. It's a 36-page PDF with lots of nifty charts and graphs that is well worth a look for anyone interested in such matters.
Limbaugh on the Top 20 Percent
December 9, 2013 at 9:26 pm
From Rush Limbaugh's radio program:
Now, there is a piece here, Associated Press, and it's by a woman named Hope Yen. "Fully 20% of US adults become rich for parts of their lives, wielding outsize influence on America's economy and politics. This little-known group may pose the biggest barrier to reducing the nation's income inequality." Now, folks, that paragraph is astounding. The paragraph acknowledges that people move in and out of income brackets.

Continue Reading
Kaus on Obama's Inequality Speech
December 9, 2013 at 9:19 pm
Mickey Kaus writes on four things the mainstream media won't tell you about President Obama's inequality speech (No. 1: It's gotten worse on his watch.)
December 9, 2013 at 4:21 pm
Senator Schumer is complaining to the Environmental Protection Agency about regulation that would cost New York City more than $1 million to replace old fire hydrants and replace them with ones that would make the water safe to drink from. Mr. Schumer is hardly a right-winger, but this example of federal regulatory overreach is too much even for him.
December 9, 2013 at 4:20 pm
The $400 million Nathan Cummings Foundation is reducing its Jewish-oriented giving to focus instead on "two specific areas: inequality and climate change," the New York Jewish Week reports.
The Foundation's president and CEO Lance Lindblom earned $1,181,431 in 2011, according to the charity's tax form, which included "a deferred compensation payment of $707,250."
December 6, 2013 at 10:26 am
This got lost on the Friday of Thanksgiving week, but it should have gotten more attention. Arnold Kling notices the report in the Detroit News:
Fisker Automotive Inc. filed for Chapter 11 bankruptcy on Friday and the Energy Department sold its green-energy loan for $25 million to investor group Hybrid Tech LLC. Taxpayers will lose $139 million on the $192 million loan to the failed electric vehicle startup, the Energy Department confirmed.
Fisker's lobbying efforts were covered earlier here. Early Fisker investors reportedly included Al Gore, the Silicon Valley venture capitalists Kleiner Perkins Caulfield & Byers, and the government of Qatar.
December 6, 2013 at 10:05 am
U.S. District Court Judge Jed Rakoff has given a speech worth reading about why no high-level executives have been prosecuted in relation to the financial crisis. One thing he suggests is that the insider trading cases have distracted prosecutors:

Continue Reading
December 6, 2013 at 9:52 am
The Washington Examiner's Mark Tapscott notices that the Farm Bill now before Congress includes a proposal, endorsed by President Obama and the National Christmas Tree Association, for a new 15 cent tax on every fresh-cut Christmas tree sold in America.
A Problem in Search of Reality
December 6, 2013 at 9:42 am
Diana Furchtgott-Roth does a fine job of debunking President Obama's alarm about rising inequality: "much of this concern is a problem in search of reality, caused by problems of measurement and changes in demographic patterns over the past quarter-century. Spending shows remarkable stability over the past 25 years and, if anything, a narrowing rather than an expansion of inequality."
December 4, 2013 at 10:39 am
"The Dallas Independent School District recently announced that every student in the school district will now get a free breakfast and a free lunch. The reason? So few students qualified for 'full price' or 'reduced price' meals that trying to identify them cost more than it was worth," John Goodman reports. More and more schools are serving dinner, too.
December 3, 2013 at 11:28 am
Peter Orszag writes at Bloomberg View:
A low-income single parent can experience a marginal rate as high as 95 percent -- for each dollar earned, the person takes home only 5 cents. And for married parents, the marginal rate for the family's secondary earner can be almost as high.
This happens mostly because various means-tested benefit programs are phased out as income increases. ...If we care about encouraging work incentives, these high marginal tax rates for low-income families deserve as much, if not more, attention than the rates for the biggest earners.

Continue Reading