January 16, 2021 at 7:40 pm
This chart shows Massachusetts State government at its worst: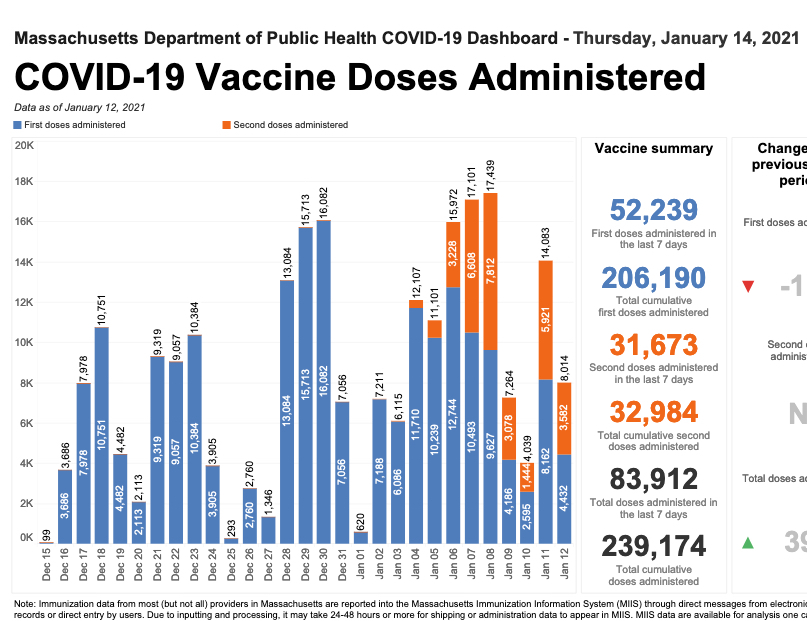 What it shows is that the state has the capacity to deliver 15,000 or 17,000 doses of vaccine a day. That's not particularly impressive in a state with a population of nearly 7 million; at that rate it would take more than a year to get the whole state vaccinated, assuming there was enough vaccine available. What's even more dismaying is that on many days the doses delivered fall way below that number—and that the low-dose days map neatly onto weekends (look at January 9 and 10, for example) and holidays (look at January 1 and at the December 24 to 27 stretch). If Massachusetts were leading other states in terms of percent of population vaccinated or percent of delivered vaccine that has been administered, then it might make sense to rest on the weekends and holidays. But the Bay State hasn't exactly covered itself in glory in either of those categories.
January 12, 2021 at 4:56 pm
A second impeachment of President Trump may turn on a language question: the meaning of the word "fight."

Continue Reading
January 11, 2021 at 2:47 pm
One lesson of the latest scandal in Illinois politics is that "clean" energy can be just as dirty as the coal and oil variety.
Michael Madigan, who has been speaker of the House in Illinois for nearly 40 years, was blocked from extending his term in the post. The Chicago Sun-Times reports: "Madigan has been battered by the ongoing federal investigation of the ComEd influence-buying scandal in Springfield. Madigan has been implicated but not charged in the investigation, and one of his close associates has been indicted. Madigan has denied any wrongdoing."

Continue Reading
January 8, 2021 at 8:42 am
Our friends at the New York Sun and the Wall Street Journal have both published editorials (Sun, WSJ) urging President Trump to resign. I share the view that Trump's behavior in refusing to accept his election loss and in encouraging a mob that disrupted Congress has been seriously egregious to the point where it raises doubts about his fitness to hold the office, even for another couple of weeks. But it is worth considering, too, that there would be a downside to resigning.

Continue Reading
January 6, 2021 at 10:18 pm
Whose fault was it that the Senate's session was disrupted by a bunch of knuckleheads who believe President Trump's delusion that the election was stolen? President Obama's statement on "today's violence at the Capitol" said, "for two months now, a political party and its accompanying media ecosystem has too often been unwilling to tell their followers the truth—that this was not a particularly close election and that President-Elect Biden will be inaugurated on January 20." The Senate Democratic leader, Chuck Schumer, returning to the Senate floor after the disruption, denounced what he called "a demagogic president, the people who enable him, the captive media that parrots his lies."

Continue Reading
January 5, 2021 at 8:55 am
Israel's world-leading pace at administering the coronavirus vaccine is the topic of my column this week. Please check out the full column at the Algemeiner ("Why Israel Is Winning the Covid-19 Vaccination Race"), Newsmax ("Why Is Israel Winning the COVID-19 Vaccination Race?"), and the New York Sun ("Why Does Israel Pace the Globe on Covid Vaccines?"). The column was also picked up by Mosaic and mentioned briefly on-air on the Fox News Channel.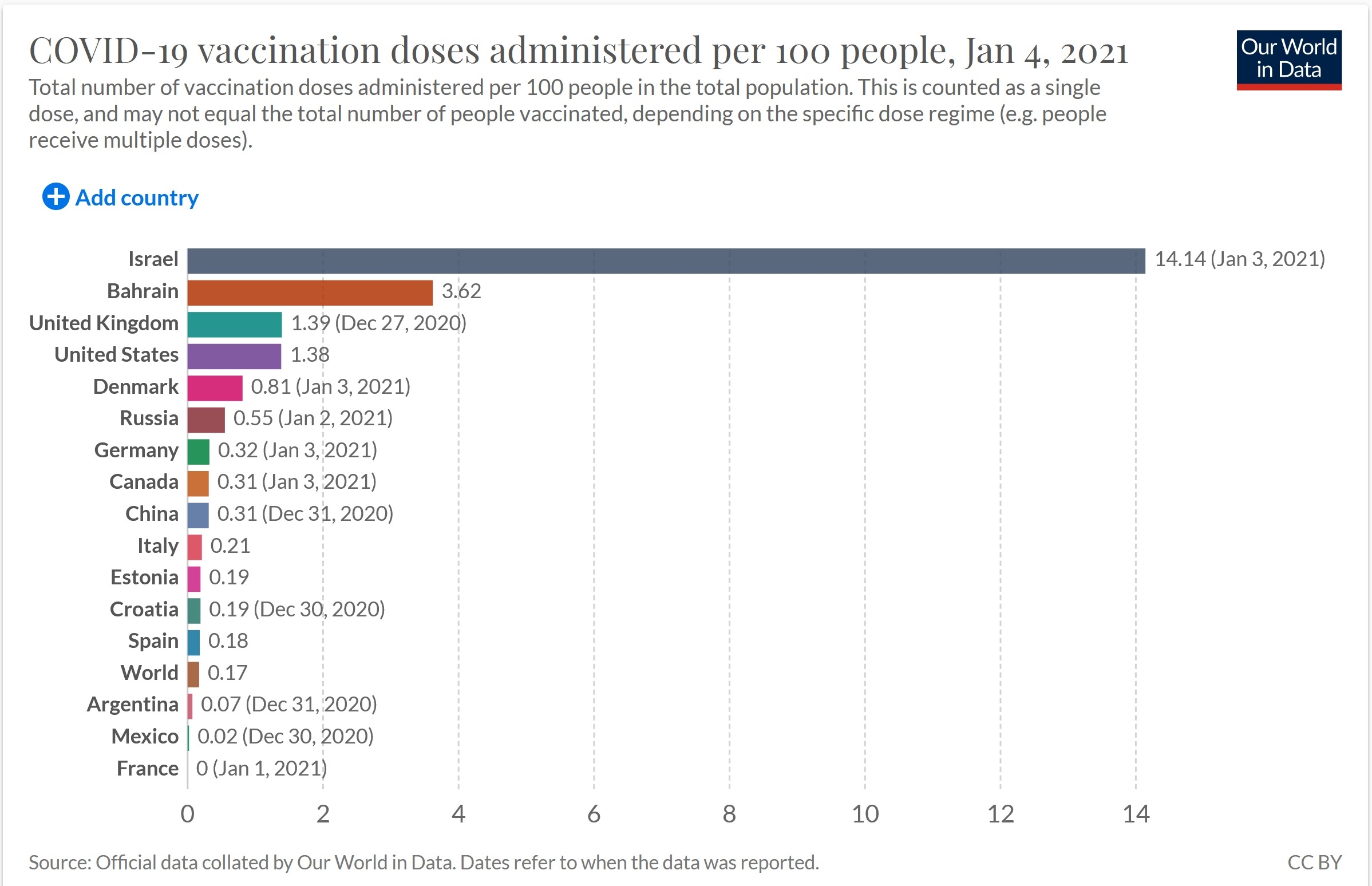 January 3, 2021 at 8:41 am
The news that Rev. Raphael Warnock's now-ex-wife claimed he had tried to run her over with his car was vaguely familiar to me, but until I read this long New York Times article about him I had not realized the make of the car. From the Times account:
They argued in the driveway. Mr. Warnock later said he had wanted her to sign the divorce papers before he allowed the children to travel overseas. Soon, Ms. Warnock was calling the police to report that he had run over her foot.

Ms. Warnock, shaken but calm, tells the police that she had been leaning into the back seat on the passenger side, with the door open, fastening one of the children's seatbelts.

Both parties agree, the video shows, that Mr. Warnock got in the driver's seat and started to move the car with the passenger door still open. Mr. Warnock says he had first asked his wife to move away from the car, but she refused. He also says that when he began to drive, he believed she had moved.

Continue Reading
December 29, 2020 at 10:43 am
December 29, 2020 at 10:36 am
December 22, 2020 at 2:32 pm
Rep. Ted Lieu, Democrat of California, plans to introduce a bill seeking to revive the Depression era Federal Writers' Project, the Columbia Journalism Review reports.
Says CJR: "The timing and exact details of the bill have yet to be finalized, but Lieu's office says that a new project could be anchored within the Department of Labor or a cultural agency, and run as a grant program administered through existing community institutions, including news outlets. As with the original, the goal of a new project would be both economic and cultural, putting the next generation of talent to work capturing the stories of the pandemic—those of the elderly, for example—and this broader moment, while also serving as a national archive for the existing work of local newsrooms and nonprofits."

Continue Reading
December 18, 2020 at 8:32 am
December 18, 2020 at 8:25 am
Early in the Trump administration I wrote a column with a list of suggestions for the president to exercise his pardon or clemency power. The names I mentioned were Michael Milken, Martha Stewart, Conrad Black, Dinesh D'Souza, I. Lewis "Scooter" Libby, Larry Franklin, and Sholom Rubashkin. Trump has since pardoned Milken, Black, D'Souza, and Libby, and he commuted the sentence of Rubashkin. So I was five out of seven, which, for a piece headlined, "Trump's Next Pardons: A Short List of Convicts Deserving To Be Cleared," struck me as good enough that it was worth returning to the topic for another shot.

Continue Reading
December 18, 2020 at 8:18 am
December 15, 2020 at 8:39 am
The Wall Street Journal news pages have a summary of the exodus from California:
The region's latest emigrant is database giant Oracle Corp., a fixture of Silicon Valley for decades that last year signed a 20-year deal to put its name on the San Francisco Giants' stadium, Oracle Park. The $180 billion tech giant on Friday said it had changed its headquarters location to Austin, Texas, from Redwood City, Calif....

It follows an announcement earlier this month by Hewlett Packard Enterprise Co. , another business-technology company with deep roots in Silicon Valley, that it is moving its headquarters to Houston—as well as similar moves by a number of well-known venture capitalists announced in recent months. Elon Musk, who had long lived in Los Angeles and commuted to Tesla Inc.'s operations near San Francisco, last week said he had moved to Texas.

Continue Reading
December 9, 2020 at 8:47 am
Marty Makary, a professor at the Johns Hopkins University School of Medicine and Johns Hopkins Bloomberg School of Public Health, observes that Britain approved a Covid-19 vaccine faster than the U.S. did: "FDA insiders say the agency and its approximately 17,000 employees were dark for the four-day Thanksgiving holiday, including those working on the vaccine approval. It's time the FDA adopts a sense of urgency. We've had Operation Warp Speed in developing vaccines but Operation Turtle Speed in reviewing the results."
He also notes how the timing related to the election: "The FDA career staff also delayed the vaccine by adding an unprecedented requirement to slow down Phase III trials. Four weeks before the Nov. 3 presidential election, the FDA increased the median follow-up period requirement for vaccine patients, ensuring that it would be impossible for the vaccine to be approved before the election. The move was a departure from a decades-old standard operating procedure at the agency and the process used to authorize convalescent plasma just months ago."