May 25, 2020 at 9:41 am
New York Times columnist Charles Blow, who, whatever he is, is not a partisan of Trump, writes:
Biden continues to commit unforced error, like the hubbub he created and later apologized for when he said at the end of an interview with The Breakfast Club's Charlamagne tha God: "If you have a problem figuring out whether you're for me or Trump, then you ain't black."

It was so cavalier and comfortable that it was shocking. Biden doesn't get to define blackness nor excommunicate anyone from it.

But that wasn't the only problem in the interview. He said just seconds after that statement that "The NAACP has endorsed me every time I've run." That never happened, and the NAACP had to release a statement to clarify that it "is a nonpartisan organization and does not endorse candidates for political office."

Continue Reading
May 24, 2020 at 2:14 pm
May 16, 2020 at 9:38 pm
From a New York Times news article headlined "Trump Vows Vaccine by End of Year, and Mobilizes Military to Help":
"If there's only a small amount of vaccine, a million or 100,000 doses, there will be very difficult decisions about who gets the vaccine first," said Dan H. Barouch, the director of the Center for Virology and Vaccine Research at Beth Israel Deaconess Medical Center and a professor at Harvard Medical School who is also working with Johnson & Johnson on its coronavirus vaccine. "Is it high-risk people, different racial groups, different socioeconomic groups? Those discussions will be difficult."

Continue Reading
May 13, 2020 at 9:37 pm
May 9, 2020 at 8:44 pm
An "updated May 8, 2020" New York Times infographic headlined "What Is the Real Coronavirus Death Toll in Each State?" reports, toward the end, "there are some places that are so far behind in submitting death certificates to the C.D.C. that comparing their reported totals to historical trends would not show much. In Connecticut, for example, zero deaths have been reported to the federal government at all since February 1."
Who is holding Connecticut's Democratic governor, Ned Lamont, accountable for this failure?
May 7, 2020 at 7:35 pm
May 6, 2020 at 9:42 pm

Continue Reading
May 6, 2020 at 8:47 am
Read between the lines of the New York Times news article about the New York Times Company's latest earnings release and there's some interesting math. The article reports that "At the end of March, The Times had more than five million digital subscribers, a high." It also reports that "For the quarter, the print subscription business brought in $155.4 million for the company, while the digital subscription business accounted for $130 million."
$130 million in digital subscription revenue divided by 5 million subscribers works out to $26 a quarter, or $104 a year. Meanwhile, the same Times article reports, "In February, long-tenured digital subscribers experienced the first increase in the cost of a subscription to the core news product — from $15 to $17 every four weeks — since the establishment of the paywall nine years ago." Seventeen dollars every four weeks is $221 a year. So the average Times "digital subscriber" is paying less than half of what the Times claims is the price of a "core" digital subscription.

Continue Reading
April 27, 2020 at 7:38 pm

Continue Reading
April 27, 2020 at 12:07 pm
The Wall Street Journal has obtained a document from Scientists to Stop Covid-19, which is a high-powered group of scientists that include a Nobel laureate and a former head of research and development at Merck. I've been of the view that our response to the coronavirus should be informed by science but not dictated entirely by scientists, because many of the judgments involved are not scientific judgments but moral, philosophical, political, and economic value judgments. But in this case, the scientists have a lot of potentially valuable thoughts.
The most interesting section, I thought, was this one:

Continue Reading
April 22, 2020 at 9:09 pm
From the April 21 letter by the president of Purdue University, Mitch Daniels, "regarding fall semester":
The global pandemic which has altered every previous reality of daily life has, of course, inflicted great harm on the nation's colleges and universities. American higher education, often criticized for its antiquated ways and its slowness to change them, has improvised and responded with admirable, even amazing alacrity to enable students to finish this semester with the progress they anticipated.

The central question now, assuming governmental authorities permit reopening of our schools by the customary August start dates, is should schools do so, and with what new rules and practices. Purdue University, for its part, intends to accept students on campus in typical numbers this fall, sober about the certain problems that the COVID-19 virus represents, but determined not to surrender helplessly to those difficulties but to tackle and manage them aggressively and creatively.

Continue Reading
April 21, 2020 at 8:45 pm
"It appears that most Covid-19 patients experience relatively mild symptoms and get over the illness in a week or two without treatment." This is from an April 20 New York Times article by Richard Levitan, "an emergency physician in Littleton, N.H.," who "is president of Airway Cam Technologies, a company that teaches courses in intubation and airway management."
Levitan's article recommends more widespread use of pulse oximeters, which we were writing about weeks ago here at FutureOfCapitalism.com.
The usual advice to take the risk of this disease seriously and follow the recommended precautions (handwashing, etc.) apply. But sometimes it seems like officials and doctors and editors are so keen to scare people into obeying the public health guidelines that they are reluctant to acknowledge the reality described by Levitan.
April 20, 2020 at 8:32 pm
My home state of Massachusetts has started to provide its daily Covid-19 reporting in a new format. The first installment, dated April 20, includes this nifty figure that makes it possible to see at a glance the age distribution of the 1,809 fatalities that Massachusetts has attributed to the coronavirus: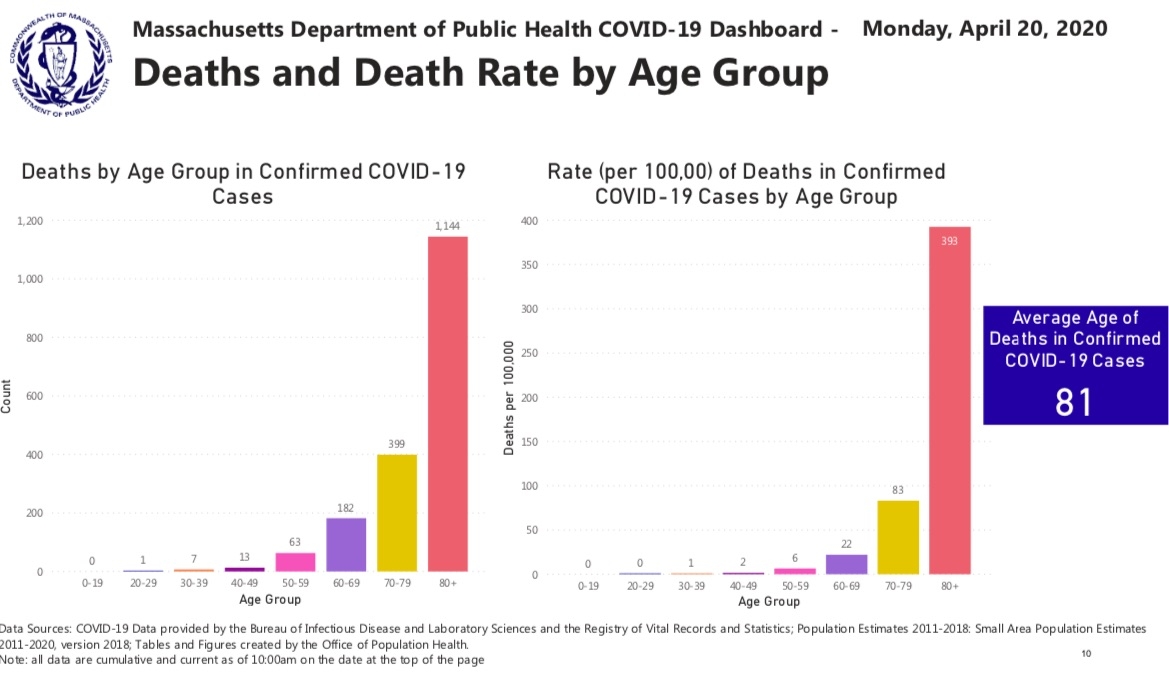 Continue Reading
April 17, 2020 at 8:17 am
Michael Mina, MD, PhD, assistant professor of epidemiology at Harvard T. H. Chan School of Public Health, assistant professor in immunology and infectious diseases at Harvard T. H. Chan School of Public Health, tweets "In US Perhaps 30+ MILLION have had #COVID19 virus In NYC, 15% of pregnancies had antibodies A German town had 14% Most asymptomatic...If this is the case, it begins to paint a new path forward for society: If shown to be consistent in additional studies, such high numbers infected would suggest 1) SARS-CoV-2 has a much lower fatality rate than we think (by an order of magnitude or more) 2) Population immunity is already building up Elderly would still remain vulnerable."
He goes on:

Continue Reading
April 17, 2020 at 7:49 am

Continue Reading