October 14, 2021 at 9:24 pm

Continue Reading
October 12, 2021 at 8:10 am
October 6, 2021 at 6:42 am
September 17, 2021 at 6:42 am
Characteristically sensible Greg Mankiw column in the New York Times about the downsides of President Biden's "build back better" spending extravaganza:
Providing a social safety net is like using a leaky bucket to redistribute water among people with different amounts. While bringing water to the thirstiest may be noble, it is also costly as some water is lost in transit.

In the real world, this leakage occurs because higher taxes distort incentives and impede economic growth. And those taxes aren't just the explicit ones that finance benefits such as public education or health care. They also include implicit taxes baked into the benefits themselves. If these benefits decline when your income rises, people are discouraged from working. This implicit tax distorts incentives just as explicit taxes do. That doesn't mean there is no point in trying to help those in need, but it does require being mindful of the downsides of doing so.

Continue Reading
September 15, 2021 at 7:50 am
September 15, 2021 at 7:40 am
The Wall Street Journal has published a letter to the editor I wrote in response to a recent column by Joe Lieberman, the former senator from Connecticut. "When both nationalism and the family are under attack, it doesn't help to confuse the two," the subheadline puts it. Special bonus: a mention of Hayek.
August 31, 2021 at 6:51 am
Larry Elder, the leading Republican candidate in California's recall election, is pressing the school choice issue, I report in a blog post for Education Next under the headline "School Choice Is Issue in California Recall."
August 31, 2021 at 6:47 am
The sale of Politico for a reported $1 billion to the German publishing company Axel Springer is the topic of my column this week. Please check out the full column at the New York Sun under the headline "Day of the Unicorn Comes for Politico."
August 24, 2021 at 10:02 pm
Americans seem to want to end wars and bring the troops home, but when they see the actual consequences of doing that, they blame the politicians, I write in my column this week. Please read the full column at the New York Sun: "The Biden-Soros Paradox."
August 19, 2021 at 8:11 am
August 17, 2021 at 7:56 am
Even the news section of the New York Times is reporting "Biden's Tough Position on Antitrust Could Chill Legitimate Deal-Making." To the hardliners on these issues, "legitimate dealmaking" is an oxymoron, but it is nice to see the New York Times headline writers haven't yielded to that extreme view.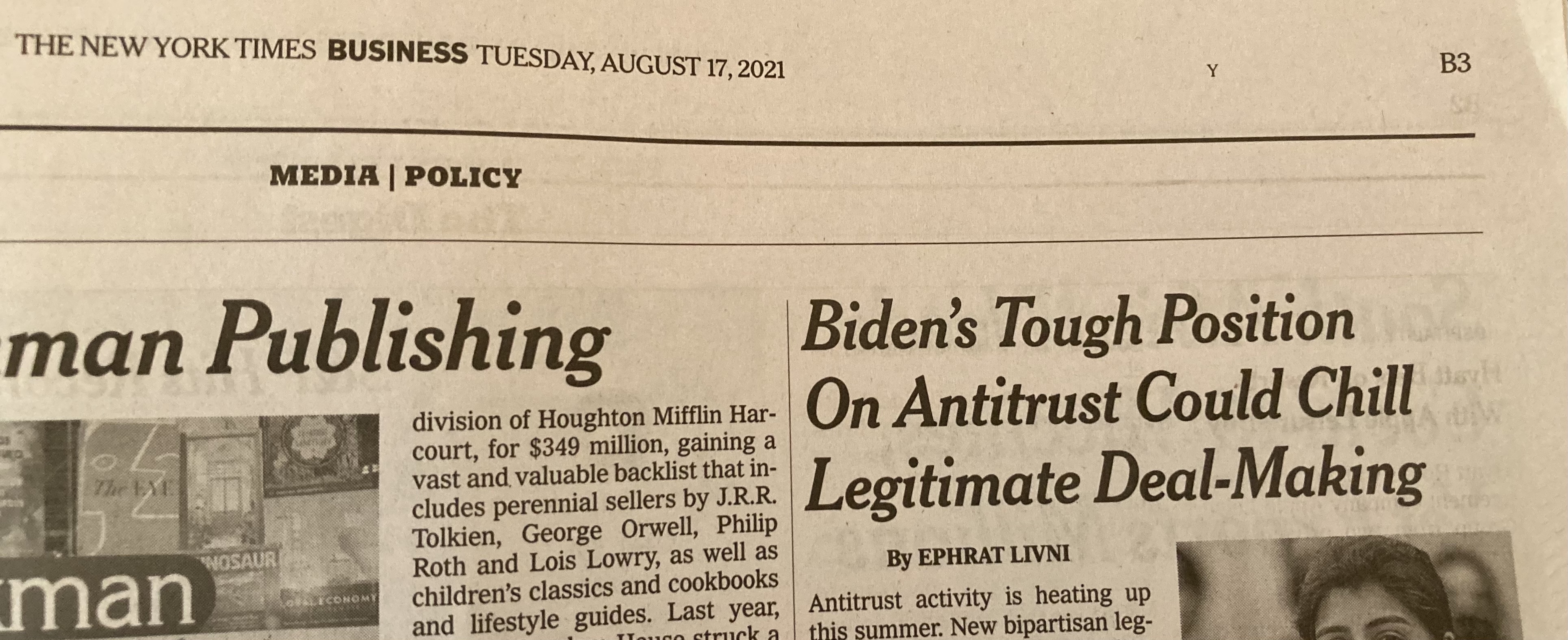 Online, the headline was hedged with attribution as "The Biden administration's tough antitrust stance could chill-dealmaking, some fear." But the "some fear" was absent in my print newspaper.
August 15, 2021 at 11:05 am
For some reason the New York Times has a too-long profile of Senator Lindsey Graham on its front page today. It is probably not worth your time, but buried in it was this kernel that seemed relevant to the news of the day:
the senator was one of the few people who could get away with taking on Mr. Trump and his temper.
The most common source of flare-ups was Afghanistan. During one golf outing, the two men got into a screaming match after Mr. Graham said he would rather deal with a bomb killing civilians in Kabul "than in Times Square."

Mr. Trump barked an expletive, shouted, "You guys have been wrong for 20 years," and stomped off, according to a person who witnessed the exchange.
President Biden basically seems to agree with Trump on this one.
August 12, 2021 at 8:09 pm
Even the New York Times can see, with a side-by-side comparison, that a housing project operated by private developers is better than one operated by a government agency. "Public-private partnerships, done properly, vigilantly overseen by city officials, at appropriate sites like Baychester, can work," the Times concedes, though that concession is bracketed by a lot of apologetic breast-beating. A side-by-side comparison of one government-operated project and another operated by "a cohort of private developers — Camber Property Group, MBD Community Housing Corporation and L+M Development Partners"—makes it clear: "Side by side, the two projects make a textbook before-and-after comparison, one derelict, the other refurbished."
Amazing how that works.
My preference would be to have the property fully sold (perhaps even to the tenants, a la Margaret Thatcher and the council flats), but short of that, private operation is at least a step above what even the Times describes as "derelict."
August 12, 2021 at 7:30 pm
August 11, 2021 at 8:11 pm